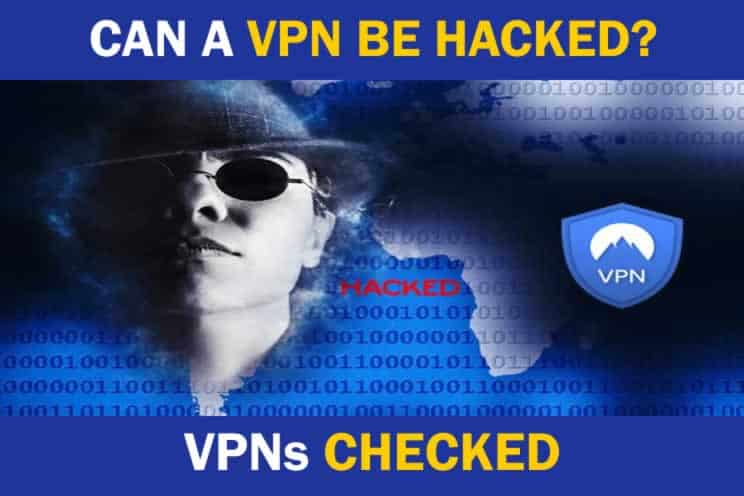 Wireless Internet has made our lives easier in so many ways, some of which include the ability to hold work meetings remotely, access entertainment on the go, and pay bills conveniently from our phones. But with this convenience comes risk, so in order to feel at ease and protect against malicious wireless hackers, you consider investing in a VPN (virtual private network).
Can a VPN be hacked? A VPN can be hacked. However, all of the well-known VPNs on the market that run on the AES-256 encryption standard would take a highly skilled hacker with powerful technology and many years to hack, making the data you expose to a VPN 99.9% secure.
Before using a VPN, it is important to understand the full range of services it provides and what you can or cannot expect when subscribing. There are many outstanding VPNs on the market, with many offerings highly similar features, so it is important to understand what you are looking for in terms of cyber security before selecting (check out my review of the best VPN choices here).
What Does a VPN Do?
A VPN, or virtual private network, is a secure way to connect to the Internet. It establishes a secure connection to the Internet by tunneling your information to a remote server, which then encrypts your information and makes it look like the Internet is being connected to from the remote location of your VPN server.
This helps hide the origin of your Internet traffic. This is a valuable service when using the Internet in a public space, such as a coffee shop or airport, because, without a VPN, all information would be available to potential hackers on the unsecure network to which you are connected.
When using a VPN, all of your information is tunneled into your service provider's network, with your traffic being sent to the Internet via your service provider. This will effectively hide your location and make it look like all of the traffic being generated is coming from the service provider network–a much more secure medium than an unprotected public Wi-Fi network.
Where Is the Remote Server of a VPN?
Many VPN service providers allow you to choose your exit country, so the traffic generated from your Internet use will look like it is coming from your service provider's network in a remote location. This is very valuable for streaming services you subscribe to that restrict access based on geographic location, allowing you to enjoy a U.S.-based subscription while abroad.
Regardless of whether or not the websites you are using are encrypted, your VPN will encrypt any data that is tunneled into its network, making VPNs an extremely valuable service if you need to access usernames, passwords, or sensitive financial information in public spaces.
5 VPNs Checked for Hack Risks
VPNs used to be used exclusively for large businesses that needed to send vast amounts of sensitive data over both public and private networks. However, after the explosion of WikiLeaks, the market for personal VPNs increased dramatically, and for a good reason–nobody wants their private data in the hands of others.
There is a plethora of personal VPNs on the market today, both free and subscription based. However, it should be noted that, like with all things in life, you get what you pay for, and free is not necessarily free. Some of the free VPNs are littered with advertisements and may sell your email address to marketing firms, which defeats the purpose of having a VPN in the first place.
Let's rate five solid VPNs based on their security and ability to keep your information safe.
1. AirVPN
AirVPN markets itself as "the air to breathe the real Internet." This VPN was actually founded by a small group of hackers (don't worry–there are many types of hackers out there, many of whom are not bad) who founded AirVPN to keep your information secure. Access to the AirVPN servers can be had for about $3 per month.
While some users complain that AirVPN reduces Internet speed significantly and has a bit of a dated interface that makes it appear somewhat illegitimate, it is one of the best VPNs on the market for encrypting your sensitive data, especially among low-cost options.
Some of the key features that help make AirVPN a top choice to protect against hack risks include the following:
Ease of navigation – your data cannot be protected if you cannot get your devices connected to the network. AirVPN makes configuration very straightforward and easy to manage, even among novices in the VPN game
Extensive configuration features – there are so many initials that accompany the Internet–ISP, IP, DNS–the list goes on. If you have these handy, AirVPN makes it simple to customize, encrypt, and configure all of these codes, making for a VPN that is essentially unleakable and super secure
Secure company policy – the privacy policy of AirVPN keeps your information secure, as they do not collect any logs. They are also highly transparent with the decisions they make, and also hold themselves to a standard of not buying positive online reviews to make them seem better than what they are
Bottom line: While AirVPN may not top a lot of lists of the most popular personal VPNs due to its lower revenue as a result of smaller fee structures, it is a very strong choice for keeping your information safe, especially if you are on a budget. With straightforward application and a high degree of customization and configuration, this is a great value in the VPN world.
2. TorGuard
While it does not have the catchy slogan of AirVPN, TorGuard is another great option for protecting your personal information and preempting hacks. A little pricier at $9.99 per month, TorGuard's anonymous VPN is a favorite choice among experienced VPN users for the array of security features it provides.
This system was originally designed to protect peer to peer transfers of electronic books, audio, and video files but has evolved to encompass a full service of personal VPN needs.
One of its distinguishing features is its "stealth technology" that deletes any traces of your online whereabouts as you navigate from one site to another.
In addition to this stealth technology, TorGuard offers a bevy of other outstanding characteristics that help prevent its network from a hack, which include the following:
Highly customizable – like AirVPN, TorGuard's interface is very rich in features and highly customizable, allowing the user to manage configuration as desired. There are a variety of settings and controls that can allow you to set the features that you want to use, as well as giving the option of Open VPN and Open Connect
Kill switches – TorGuard comes with both an application kill switch and a network kill switch, a rare combination among VPNs. This helps protect you in the event that the TorGuard servers ever crash, as you would otherwise be exposed directly to the Internet until the VPN servers got back up and functioning
No log policy – this is another company that does not keep any VPN logs. This leaves subscribers feeling secure that their data is not being collected by network administrators. In addition, the company culture is strong and reputable, leaving users feeling secure that their data is being funneled into good hands
Bottom Line: TorGuard is one of the big hitters in the personal VPN game, and with good reason. With a wide array of highly customizable features, as well as stealth technology and kill switches, TorGuard is a favorite system among more advanced VPN users in protecting personal information from a hack.
3. Mullvad VPN
Mullvad VPN bases its service on the slogan that "privacy is a universal right." For between $5 to $6 per month, you can become a member of this highly secure network.
One of the unique encryption features that help Mullvad VPN attain outstanding levels of security is its login settings. Rather than requiring users to create anonymous usernames and passwords, Mullvad VPN secures your identity by giving each user a unique account system number to access the network.
This account system number is like your social security number for the Mullvad VPN. Your account system number is created, you pay for the amount of time that you want to use the network, and this amount is credited to your number, and then the account system number is used for logging into the network. When your time expires, you simply add more time to your number.
While some may argue that this is no different than creating a username and password to log into other VPNs, it offers increased protection in a couple of ways:
Even the most scrupulous subscribers to online services reuse old usernames and passwords. This is problematic in that once a hacker gets ahold of these credentials, they gain access to a wide array of your sites and personal information. Mullvad VPN forces you to use a number that is unique to its site
If this account system number were somehow to get hacked, the only thing it would be good for would be to use your previously purchased time on the VPN. As network use is credited to your account system number on a pay as you go basis, there is no threat of hackers getting this information simply by figuring out your number
In addition to the added login security, Mullvad VPN offers similar features to the top two on our list. While it does not have as many highly customizable configuration settings as AirVPN or TorGuard, there are plenty in place to ensure security.
There is also a strict no logs policy at the company, meaning that even if Swedish authorities (the headquarters of Mullvad VPN are in Sweden) demanded data and personal information, there would be nothing to hand over because there is nothing on record.
Mullvad VPN also offers kill switches in the event that you get disconnected from the network.
Bottom line: While the application and configuration options are not as extensive with Mullvad VPN as the top two on our list, there is plenty in place to protect you from a hack. With its unique login system and affordable price tag, Mullvad VPN can be a great choice for those looking to enter the VPN game.
4. IVPN
Checking in at number four on our list is IVPN, another very strong choice in terms of security for VPNs. IVPN works under the guise of "free yourself from surveillance," and by using its service, you could very well achieve this end for only about $5 per month.
With IVPN, you see all of the same security features found in the other VPNs on this list, including the following:
Customization – IVPN has a number of settings, configurations, and firewall options that can allow you to choose the levels and forms of protection you most desire
No logs – this is a common theme among the most secure VPNs, meaning that all records of user data is encrypted and not stored after it leaves the IVPN servers
No affiliates – this means that there are no entities below IVPN who are receiving a commission to use the service and provide positive reviews. This creates a level of transparency with the company that is not seen in some of the big hitters
One area that sets IVPN apart from some of its competitors is its early adoption of WireGuard. WireGuard is an updated and simplified encryption code that allows data to be tunneled to and from the network at an accelerated rate.
While WireGuard is not yet perfect, nor required by IVPN (the more common OpenVPN is still an option for users), IVPN is very well positioned to jump to the front of the pack in the VPN game if and when WireGuard is fully functional.
Bottom line: IVPN is another affordable, effective VPN on the market today. While it has yet to be all that it can be, it is still a solid choice in protecting against a hack. 
5. VPNArea
For about $5 per month, you can join VPNArea's secure network.
VPNArea offers one of the easiest to navigate website interfaces of the companies on this list, making it easy to get set up and your devices configured.
As with the others on this list, VPNArea has a high degree of customizable settings that allow you to choose how you want your network to be secured.
There are also no data logs stored by VPNArea, giving you peace of mind that your information will not be misused by corrupt company employees.
Bottom Line: VPNArea offers the same array of features that minimize your risk of being hacked while using the network. It is a very affordable and solid choice to keep your data secure while in public.
Where Are the Big Names?
Many reading this article may wonder why household names in the VPN industry, such as ExpressVPN and NordVPN are not listed.
Even though NordVPN did suffer a data breach in March 2018, users should feel safe when using these networks. In general, any subscription-based VPN should leave you feeling very secure about the security of your information, as the work required to hack these networks is extensive and beyond the scope of most hackers.
The reason these somewhat smaller companies are rated as safer is due to their smaller stature. They have fewer commissions below them, meaning the reviews are more honest and better reflect the experience of the subscriber. A 4.2 rating may be earned by a smaller VPN, while a 4.4 rating may be "bought" by a larger one.
In addition, while the larger VPNs should seemingly have more resources at their disposal, the larger pool gives more hackers more incentive to try and break into the servers. This may marginally decrease the level of security with more well-known providers.
What Types of Hacks Do VPNs Prevent?
As mentioned, VPNs are 99.9% effective in preventing hacks, which seems like a certainty when compared to how exposed your device is when connected to a public network. Specifically, VPNs are proven to be 100% effective in stopping cookie thefts and fake wireless access points.
In addition to these, VPNs stop the vast majority of malicious online ads and malicious browser takeovers. Though it is a long shot, hackers may be able to access your data through a VPN by using bait and switch techniques by getting you to click on fake ads.
This is not an issue with subscription-based VPNs and underscores why it is more dangerous to use free VPNs that rely on advertising revenue to stay profitable.
Why Don't All People Use VPNs?
In the world of wireless Internet, a VPN is arguably more important than a lock on the front door of your house. However, the following are common excuses as to why people do not take this necessary step to protect their personal data:
Slower Internet – even though these VPNs are high speed, tunneling data to a remote server and back to the Internet will slow down your access time, even if only minimally
Cost – people do not want to pay as little as $3 per month to protect against an identity theft that could take years to erase
People don't understand the risk – most people do not realize just how vulnerable they are when using public Wi-Fi networks and adopt an "it won't happen to me" attitude