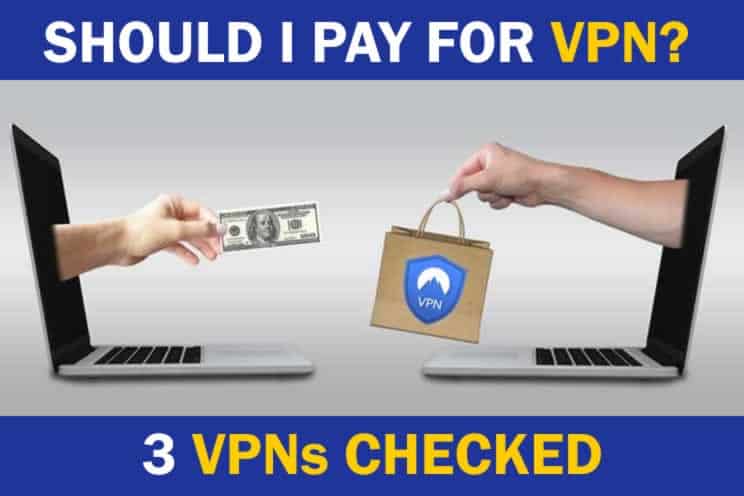 By working to create an encrypted connection to a trusted server, a VPN allows users to route their data through private tunnels, effectively securing their data. Because of this, the VPN is a critical tool for security and privacy.
Should you pay for a VPN? While paying for one may have its benefits, it may not be necessary to pay for a VPN if its offered features suit your needs. Whether a free VPN is okay, or if a paid version is needed, is completely dependent upon each person's unique needs and intended use for it.
Read on to learn the highlights of some of the best free VPNs in the market. This will help you decide if paying for a VPN is necessary for what you wish to use it for.
3 Best Free VPNs
Before committing to paying for a VPN service, it is well worth your time to explore the features of some of the top free VPNs to see if the services offered will suffice for its intended use (check out my review of the best VPN choices here).
1. ProtonVPN
For years, Proton has been offering great VPN services with both the free and paid versions of their software. Located in Switzerland, the team behind ProtonVPN has roots at CERN (European Organization for Nuclear Research) and has launched several crowdfunded projects with the mission of preserving privacy rights.
Proton was founded in 2014 and is supported by both the European Commission and the non-profit foundation FONGIT.
ProtonVPN offers some of the best security and privacy solutions when compared to other free VPNs. This is probably why PC Magazine has named it their Editor's Choice in the past.
Advantages of ProtonVPN
No Data Limit – Many free VPNs will have a bandwidth limit, with a user's data becoming unprotected once the bandwidth limit has been met. With ProtonVPN, there is no data limit, so users are free to use the VPN as much as they desire.
No Throttling – Instead of throttling the connection speed for the free user, ProtonVPN simply provides slower connection speeds. It is up to the user to understand that they accept slower server speeds by using the free VPN service (as opposed to the paid version). Choosing to give free users a slower connection instead of blindly throttling their connections goes a long way in proving Proton's transparency.
Automatic Kill Switch – Kill switches are vital when the VPN connection to a network closes unexpectedly, possibly leaving sensitive data exposed to the network. Having a kill switch in place ensures that the user's privacy will not be compromised in such events. ProtonVPN has an effective kill switch in place to help guard against this possibility.
Focused on Privacy and Security – The ethos of Proton is built on privacy and security, and their VPN product does not stray from this path. ProtonVPN supports IKEv2/IPsec and OpenVPN connections, which have been proven to be secure connections. It also protects data with AES-256 encryption and 4096-bit RSA key exchange. Each time a user connects to a ProtonVPN server, a new encryption key is created to protect the connection, ensuring that data from past connections remains safe.
Friendly User Interface – ProtonVPN has a very friendly user interface that is easily navigable. Having a user-friendly UI is integral to the user experience, as the average user isn't likely going to want to use a product that is difficult to use — even if it did offer the best services.
No-Log Policy – No-Log Policies are important in maintaining complete privacy and anonymity while using the web. Users can feel comfortable knowing that ProtonVPN maintains a strict No-Log policy, meaning that there is no log or record made of any user data or transaction. Proton is also domiciled in Switzerland, a country known for progressive privacy-friendly laws.
Supports P2P Connections – Many VPN services block P2P connections via torrenting applications. However, ProtonVPN can be a good solution, as the service does allow file sharing on all their servers. This, coupled with the fact that ProtonVPN has a No-Log policy, means that any torrenting or other P2P activities will remain private.
Disadvantages of ProtonVPN
Need to Create Account – To use Proton's free VPN service, one must create an account with Proton. For most users, this might not be a huge drawback, but it could be concerning for those living in highly censored countries.
Limited Server Locations – There are three server locations offered in the free version of ProtonVPN: Netherlands, Japan, and the USA. Having a limited amount of locations means that access to information and services from other countries may not be available. Having limited servers also plays a role in the user's connection speed, as the available servers may be congested with high traffic.
Device Limitations – Users can only connect one device at a time while using ProtonVPN's free service. More devices can be added with paid plans.
Customer Support Lacking – The only method available for customers in need of support is through contact by email, or by opening a support ticket. The lack of access to customer support is not helpful for the user that needs immediate help.
2. Windscribe
Windscribe has been offering services since 2016, becoming one of the most popular free VPNs on the market. The company is domiciled near Toronto, Canada.
The company has built its reputation as a feature-heavy service. Here are some of the features and drawbacks of Windscribe's VPN service.
Advantages of Windscribe
Generous Bandwidth Limit – Windscribe offers a monthly limit of 10GB of bandwidth for their free VPN service. Compared to other free VPN services, this is a very generous offering.
Numerous Server Locations – Users of Windscribe's free VPN service will have access to servers located in over ten different countries. Compared to other free VPNs, this offering is certainly lavish, but like other free VPNs, these servers can be congested with traffic.
P2P Connections Supported – Regarding P2P connections, Windscribe does allow torrenting and other P2P connections on some of their servers. The service denotes which servers are P2P-friendly, so there is no guesswork on the user's behalf.
No Logging or Tracking of Data – Aside from the number of bytes transferred over 30 days, as well as the timestamp of the user's last use of Windscribe's servers, Windscribe does not collect data on its users. This means that Windscribe will not collect the user's source IP address or the sites visited during VPN use. Nor will there be any log of the user's personal history using the VPN.
Ad & Malware Blocking – Another generous feature added on to Windscribe's VPN service is their ad and malware blocker, called ROBERT, which is able to be customized to block different criteria of content and threats. This allows users to ramp up their personal security without having to run multiple programs simultaneously. Users of Windscribe's paid plans have greater access to ROBERT's ad and malware blocking functions.
Automatic Kill Switch – A necessary function of any VPN service is the addition of a kill switch. Windscribe has made sure to include a kill switch with their VPN to aid in the prevention of the exposure of sensitive personal data in the event that the user loses their VPN connection.
Decent Customer Support – Windscribe has a number of resources to help their customers. Some of the resources include a blog, an FAQ, and a fully navigable knowledge base. A chatbot is available for customers that may need real-time assistance. Customers can also contact customer support via a ticketing system. This will put the customer in contact with a customer support professional.
User-Friendly – The layout of Windscribe is incredibly user friendly, optimizing a minimalist approach. This lends itself to being easy to set up and use, as many of the settings and options are easy to find.
Disadvantages of Windscribe
Streaming Service Incompatibility – For those who are interested in using a VPN to spoof their location for access to other country's streaming content, Windscribe may not be the VPN for you. In the past, the VPN has shown issues spoofing the geo-location of the user's IP addresses. This will ultimately mean that some streaming services will deny access to other locations other than the user's residing country.
However, Windscribe does have a collection of dedicated servers for Netflix called "Windflix" allowing users to connect to different Netflix regions.
3. Tunnelbear
Founded by Ryan Dochuk and Daniel Kaldor in Toronto, Canada, TunnelBear has been providing VPN services since 2011. The Company has since been acquired by McAfee, a joint venture between Intel, TPG Capital, and Thoma Bravo.
Advantages of Tunnelbear
Many Server Locations – Tunnelbear offers over 20 different server locations to choose from, giving the user a good amount of freedom to explore and choose which location they prefer to connect.
No Logging – In an effort to respect the user's privacy and anonymity, TunnelBear operates with a No-Log policy. This essentially means that TunnelBear does not keep data on its users, ensuring that customers can use the VPN without fear or worry of surveillance.
P2P Connections Supported – TunnelBear does support torrenting and other P2P connections on their servers. Users may feel confident using TunnelBear, as their No-Log policy ensures that the VPN will not monitor a user's activity.
Ad/Tracker Blocker – Another added feature packed into TunnelBear is the offer of an ad/tracker blocker, available as a browser extension. This extension works within the web browser to block ads and trackers. Users can add the extension to their browser for free.
Automatic Kill Switch – TunnelBear has a kill switch integrated into their VPN. VigilantBear, TunnelBear's kill switch mode, works to prevent the user's data from leaking out onto the web if the connection with the VPN should fail.
Easy to Use – The layout and design make TunnelBear's application easy to use and understand, which makes TunnelBear a viable option for new VPN users. Because the layout is intuitively designed, users may be more apt to use it more frequently, as the application makes it very easy to connect to different servers and change settings.
Disadvantages of TunnelBear
Streaming Service Incompatibility – Due to inconsistent geo-spoofing, TunnelBear is not a great candidate for gaining access to different regions on streaming platforms such as Netflix and Hulu.
Small Data Cap Likely to be Limiting – TunnelBear offers users of their free VPN service 500 MB of bandwidth each month. 500 MB is not a large amount of data, and users are likely to find that their needs far exceed the monthly allotment of free data provided.
So, What's Better, Free VPNs, or Paid VPN Subscriptions?
Because each person's needs may largely differ from another's, the question of whether it is worth subscribing to use a premium VPN greatly depends on the user and their needs.
For those users who only need basic VPN services and don't need too many features, a free VPN service may function quite well in suiting their needs. On the other hand, premium VPNs can offer the user a realm of possibilities, options, and benefits inaccessible to free VPN users. These benefits often include:
A larger amount of server locations
Higher connection speeds
Geo-spoofing, useful for streaming platforms
Support for multiple devices per account
The Best Low-Budget VPN
Often, highly effective premium VPNs can be found to fit even the most extreme budget. The following reviews one of the best options for a budget-friendly, premium VPN service:
NordVPN
NordVPN is a VPN service with a rich history of effective VPN services offered at a budget-friendly price. Founded in 2012, NordVPN is domiciled in Panama, a country with privacy-friendly laws. The company has built its reputation as one of the most reliable VPNs on the market.
Streaming Platform Compatibility
For users looking to access different regions on streaming platforms such as Netflix, Hulu, and more, NordVPN has consistently shown positive results. NordVPN has made a resource available containing instructions and suggestions on how to successfully gain access to different location regions on various streaming platforms.
High Connectivity Speeds
The connection speed will inevitably be slower when using a VPN, as data is being routed before its destination. However, NordVPN offers fast servers to ensure that the connectivity speed isn't much different than when not using a VPN.
Extensive P2P Support
For the user needing a VPN for P2P connections, NordVPN may be the solution, as the service has over 4,600 dedicated P2P servers, located in over 40 countries. For extra security, SOCKS5 proxies are also provided with NordVPN.
No-Log Policy
In an effort to keep the user's privacy and anonymity a priority, NordVPN has a No-Log Policy. Because of this, users of the VPN service can feel confident knowing that their information will not be monitored.
Panama has very proactive data laws, and because NordVPN's headquarters is located in Panama, they are able to operate without having to abide by strict regulations requiring access to sensitive user data.
Unlike many other VPNs, NordVPN does not collect session information, traffic logs, IP addresses, connection time stamps, or information on the amount of bandwidth used.
Private Payment Methods
The sole reason a person might use a VPN is for personal privacy. Unfortunately, many VPN services require payment with traditional payment methods such as a credit card, which broadcasts personal information onto the web, effectively rendering the VPN useless.
NordVPN offers the ability to pay with cryptocurrency, allowing users to maintain their anonymity. Because cryptocurrencies allow for complete transparency, users are able to keep their identities anonymous, as a transparent public ledger will show that the transaction was successfully transferred from the customer to NordVPN.
Multiple Security Features
NordVPN has a number of different features and settings for added connection security. These include:
Onion Over VPN Servers using Tor connections
Dedicated IP servers
Auto-Connect
DNS Leak Protection
Ability to switch between UDP and Open VPN TCP protocols
Obfuscated servers
LAN invisibility
Pricing
NordVPN offers a number of different pricing tiers for its VPN service. A person can save a good amount of money depending on the amount of time commitment and confidence they are willing to give the VPN service.
For a 1-month plan, users will have to pay $11.95 per month.
For a 1-year plan, users will have to pay $6.99 per month, billed as $83.88 once per year.
For a 2-year plan, users will have to pay $4.99 per month, billed as $119.72 once every two years.
For a 3-year plan, users will have to pay $3.49 per month, billed as $125.64 every three years.
Conclusion
A free VPN service may be totally suitable if a user only needs a VPN for basic services and is not concerned with bandwidth limits or server location options.
In most cases, it may be well worth the user's time and money to find a premium VPN, as a highly capable VPN can be very budget-friendly, and offer services that will allow the user to never have to worry about having to compromise personal privacy and anonymity for the limitations of a free VPN service.