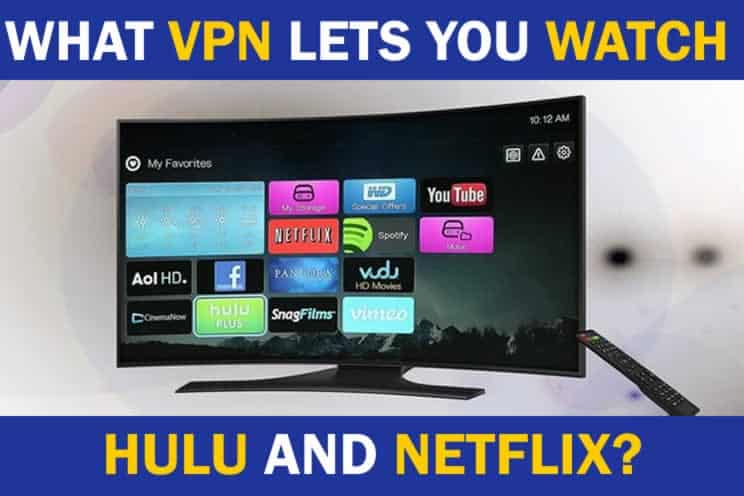 Now that video streaming networks are becoming increasingly popular, many VPN account holders wonder if they can access streaming services such as Hulu and Netflix. The good news is, yes, it's possible!
What VPNs lets you watch Hulu and Netflix? There are several VPNs that will let you watch Hulu and Netflix and remove any obstacles that may affect your streaming experience. Here are the top choices for 2020:
Express VPN
SurfShark
NordVPN
Cyber Ghost
IPVanish
Private Internet Access
Vyprvpn
Hotspot Shield
PureVPN
Strong VPN
Before we start looking at the best VPNs, it would be a good idea to become familiar with what a VPN is and how they work.
What's A VPN?
VPN is an abbreviation for a "virtual private network", a private internet service that you can sign up for online. When you have an account set up, the VPN makes your internet connection more secure and helps you remain anonymous while you surf online. It can also help you maneuver around any blocks, which means you can access censored sites.
Virtual – You'll have a connection to any website or computer.
Private – All of your online activities will be kept private, and your identity will remain anonymous. 
Network – A global internet connection
When you go online with a VPN account, you'll be offered an instant and continuous privacy with a connection that's considered secure. Usually, VPNs are hack-proof with strong security systems, and all of your internet information will be encrypted.
Some VPNs require a monthly charge, usually between $2.50 – $7.99, but there are free VPNs available. (See below for a list.)
How Does A VPN Work
To begin with, your IP address is a series of numbers your internet provider assigns to your account. It follows you wherever you go on the internet. Think of it as your identification badge number. The problem with the IP address is it gives away your location, whether you're at home or on the road.
When you sign in with a VPN, you'll be assigned a temporary (false) IP address, and you'll have a different one each time. The temporary IP address will hide your true IP address and location from any website you visit. Your internet experience will stay the same, except for the fact that you'll be able to access websites that were previously blocked.
Having a VPN also means your activities will be hidden with encrypted data. This will prevent any networks or interpret providers from seeing where you've been and what you've been doing.
So, Which One Is The Best VPN For Hulu?
Since the VPN hides your actual IP address from any website you visit, you can see a movie you've been wanting to see on Hulu, but couldn't because it was deemed inappropriate by your country's regulations.
Now for the million-dollar question, which VPN is better for streaming Hulu? Here are the top picks for accessing video services like Hulu from anywhere in the world.
Vyprvpn
ExpressVPN
NordVPN
CyberGhost
Hotspot Shield VPN
Vyprvpn
This VPN offers a lighting speed connection with a modern approach to streaming your videos online. You'll be able to access the top video services and watch Hulu, plus 14 others, from anywhere in the world through a software that was created explicitly for video streaming.
ExpressVPN
This VPN is known for consistently unblocking Hulu and Netflix with excellent streaming speeds. It also comes with one of the best encryption technologies. Express is at the top when it comes to ensuring there's access to your favorite sites without sacrificing quality.
NordVPN
NordVPN has a unique feature called Smartplay that automatically bypasses any blocks so you can watch Hulu or any other video streaming service you want. If any issues pop up, you can contact NordVPN's customer service support center and enter a live chat.
CyberGhost
CyberGhost has a user-friendly interface with easy to use apps for streaming media and sharing files. You'll be able to access Hulu, or any other video service, with a click of a button. There are several other apps for media use.
Hotspot Shield VPN
Hotspot provides high-speed VPN servers that can unblock Hulu and produce an HD quality resolution. Their VPN makes it easy to unblock Hulu on any device, and their unlimited data means you can watch as many videos as you want on Hulu. It's also optimized for a streaming experience that's considered seamless, so you'll be able to enjoy the videos with minimal issues.
How To Unblock Hulu with VPN
Follow these steps to unblock Hulu with your VPN:
Download– Set up a VPN account and download the software and/or app (if there is one) on your device
Connect- Sign into the VPN and connect to the internet
Select location- Most VPNs have an option where you can select the location you want for your temporary IP address (i.e. United States)
Enjoy– Grab some popcorn and log into Hulu!
10 Best VPNs To Check Out
These are considered the best VPNs of 2020. They are known for providing excellent private network services in general.
Cyber Ghost
Vyprvpn
1. Express VPN
Express is considered one of the best VPNs money can buy, mainly because of its high speed and performance. You can have five devices signed into your Express VPN account at the same time.
Their VPN is also compatible with:
Multiple devices
Browsers
Consoles
That means you can use it with an Amazon fire stick, Nintendo switch, or any other game console with access to the internet.
All it takes is one click to set it up, so it's rather easy to use. Although they do offer advanced options. For example, a kill switch and DNS leak protection for extra security.
Express VPN comes with great apps that can be used on various kinds of devices. You can even install it on your Android TV, which is a bonus. If you have any questions or issues, they have a 24/7 customer service support center that will help you get the most use out of your VPN server.
Unlimited streaming
Over 3000 servers in 94 countries
They currently have a special deal where you get 3 months free
Con: Connection to some video streaming services like Netflix and Hulu works, but not 100% of the time. You may have to search for one of their servers from a specific location that doesn't have any issues.
2. SurfShark
The SurfShark VPN has excellent high speeds, and it can easily bypass region restrictions. It has modern features with unlimited access. SurfShark is the only VPN that allows unlimited devices, most VPNs limit it to 5 or 10.
The VPN comes with a "CleanWeb" feature that stops ads and malware, so you don't have to worry about them. It also comes with some of the best encryption technology available and a kill switch.
What's awesome about this VPN is its camouflage mode, which comes in handy in certain high-censorship countries (even China).
Unlimited streaming
Has access to Hulu
Has over 1,000 servers in 60 countries
Money-back guarantees are not always available
Con: Their self-help support and customer service is not the best.
3. NordVPN
NordVPN is well known in the VPN market for its top-notch security system. It uses 2048-bit encryption and strong DNS leak protection with two kill switches, which is beyond impressive.
The VPN comes with features that provide proxy extensions for Bitcoin and Paypal. You also get Smartplay, which helps you stream video services like Netflix and Hulu with ease.
There are several payment options available, so there's plenty of choices. If you're still unsure, you can give it a try and get your money back within 30 days if you don't like it.
The speed and connection are usually high-quality, but there may be issues occasionally. 
Has access to Hulu
Over 5,800 servers in 50 countries
Free gift with purchase
30-day money-back guarantee
Con: The speed may become slow occasionally, and there's no router app.
4. CyberGhost
CyberGhost has an ultra-fast VPN that's filled with user-friendly features. Their software comes with easy to use buttons for streaming media and sharing files. This VPN is ideal for first-time VPN users.
With CyberGhost, you can choose to operate directly from your system's network setting or to use a third-party open VPN software. Since they have so many servers in multiple countries, their coverage is almost unbeatable.
You don't have to provide your real name, which makes it even more private. All you need is a working email address, and you're set. It's more expensive to pay monthly, so you would be better off paying the annual one-time fee.
Has access to Hulu
Over 5800 servers in 90 countries
45-day money-back guarantee
Con: The VPN may not work very well in China, and there are fewer app features for macOS and iOS.
5. Private Internet Access
Private Internet Access (PIA) has a reputation for good reasons. It offers a reliable connection to servers all over the world without any disconnection issues that may be common with other VPNs.
It comes with a handy "Detect Best Server" feature that suggests which location will provide the best connection at any given time. Their engineers made sure their VPN was compatible with various operating systems, like Windows, Android, and even Linux.
The fact that the company is based in the USA may be an issue for some people. It depends on your preferences.
Reliable network connection
Over 3000 servers in 45 countries
30-day money-back guarantee
Con: While PIA has excellent privacy protocols with no leaks, it doesn't work as well in China as it does in other areas. 
6. IPVanish
IPVanish is a VPN that offers a secure private network for a reasonable price. It can be used by many different kinds of devices and operating systems. Better yet, it comes with many desktop apps that range from simple to complex.
Keep in mind that there's a kill switch option for some devices, like a computer, but there are no kill switch options for the mobile app.
The fact that the company is based in the USA may be an issue for some people. It depends on your preferences.
Multiple apps
Has access to Hulu
Has about 1,300 servers in more than 75 countries
7-day money-back guarantee
Con: You can't be anonymous when making payments, and it doesn't work as well in China. There was some history of logging information being released, but since then, IPVanish claims that they do not store logs.
7. Vyprvpn
Vyprvpn offers a high-speed connection with modern apps for streaming videos online, so you'll be able to watch Hulu or any other video streaming service. They have a top-notch customer support service, so you can rest assured that they have you covered.
Their VPN uses secure encryption and DNS protection. To make their VPN more secure, the company owns every server and piece of hardware to make sure there are no third parties with any access to the data. It comes with a kill switch as well.
Over 70 Locations
75% off sale
30-day money-back guarantee
Con: You can't be anonymous when making payments, and they will cancel your subscription if there are any copyright complaints.
8. PureVPN
PureVPN claims to provide one of the fastest connections for a VPN, and they also offer a feature called "split tunneling," where you can choose which data to send through your ISP and VPN.
The setup process is simple and straightforward. After initiating the setup, you'll be asked to choose from five options, and each one has different speeds:
Stream
Internet freedom
Security/privacy
File sharing
Remote/Dedi IP
For some reason, "security/privacy" has the lowest speed when it should be higher.
Speaking of security, the company is located in Hong Kong and doesn't have any data storage requirements, so you don't have to worry about your data being stored anywhere else.  It also comes with a kill switch for extra security.
Over 2000 servers in multiple locations
7-day trial for $0.99
31-day money-back guarantee
Con: The speeds are not consistent, and there's some history of DNS leaks in the past, which could be an issue for some people.
9. Strong VPN
What's neat about Strong VPN is the fact that you can have 12 connections going all at once, that's more than what the other VPNs will allow. It's a reliable service with all of the standard features you'll see in a VPN, plus some extra ones.
Like their name says, they have an excellent security system. In fact, their VPN uses the same kind of encryption that's used by the CIA or FBI.
Strong VPN doesn't have as many servers in different locations like some of the other VPNs on this list, but their performance and speed is still reputable. They can still access Netflix with no issues and bypass common proxy errors in servers that you may find in Canada and the Netherlands.
The fact that the company is based in the USA may be an issue for some people. It depends on your preferences.
Has Access to Hulu
Over 950 servers in 46 locations
30-day money-back guarantee
Con: The speed quality may vary, it depends on which server location you're accessing at the moment, so it's not exactly reliable. Also, their outdated user-interface may pose an issue for some people that want something more modern.
10. Hotspot shield
Hotspot VPN has become increasingly popular recently, mostly due to its free option and decent speeds, but it makes the top ten because of its premium services. The services come with features that help stream video services like Netflix and Hulu.
The reason why Hotspot is at the bottom of the list, even though they may be popular, is because they have a history of breaking their own privacy policy by selling their customer's data to their partners.
Over 3200 servers in 70 locations
Money-back guarantee is not usually available
Con: Hotspot doesn't support OpenVPN, so it may not be possible to set it up on your game console or Chromebook.
Tip: Most of the VPN on this list offer a 30-day money-back guarantee– give it a try. Even though you have to pay upfront, it'll help you decide if that particular VPN is right for you. If you don't like it, cancel the service within 30 days, and you'll receive your money back.
Top 5 Free VPNs
Here are some of the best free VPNs available:
1. Windscribe
Windscribe is considered one of the best free VPN services available. It offers a variety of benefits, including a secure firewall and ad-blocking options. It also unblocks geo-restricted contents. Since it's compatible with many platforms, there's a variety of connection options.
What's different about Windscribe is that they offer static IP options, which is like getting a temporary IP address for an extended period, rather than switching it up each time you log in.
They offer a free plan for 10GB data every month. So, the speeds are decent, but not always great. If you want better speeds and quality along with unlimited data, then you'll have to sign up for a premium account.
If you choose to upgrade your Windscribe plan from free to "Pro" services, you can use bitcoin to pay for it.
It would be nice if there was a kill switch, but there's none. Windscribe claims that their firewall prevents any data leaks.
Server locations in over 63 countries
OpenVPN compatible
Con: The video streaming experience will most likely be limited to US locations, which means American movies and TV shows. This may be an issue for some people who want access to different movies and shows from other countries.
2. ProtonVPN
ProtonVPN is a newer Switzerland-based server with the expert backing of the same people who created ProtonMail. It has multiple server options to choose from, and the app for devices is easy to use. There's a 10 GB data limit, but it comes with unlimited bandwidth and P2P support.
Their VPN comes with strong protection settings for their apps, which is compatible with Windows and Mac. The security system uses encryption and DNS leak protection along with what they call "Secure Core," a double-hop VPN server feature that routes the IP address through servers in Switzerland or Iceland first, before sending it to a second VPN server. There's also a kill-switch feature.
ProtoVPN has a split tunneling feature too, so you can choose to route traffic for specific applications through your ISP rather than the VPN server. There are different settings available for protocol selection and startup options, so you can customize it to fit your needs.
Server locations in over 50 countries
Excellent security
Con: The speed quality may vary, it depends on which server location you're accessing at the moment, so it's not exactly reliable.
3. TunnelBear
TunnelBear is a high-speed VPN server with a large network. It offers both a premium account and a free account. The data is not unlimited for the free account, but if you tweet about TunnelBear, then you'll get an extra 1 GB as a reward.
It comes with a friendly interface that's easy to use on multiple devices. This kind of VPN would be ideal for newcomers.
TunnelBear has a strict privacy policy that clearly states that they do not collect or store logging information, so they won't sell data regarding your website activity. Their OpenVPN comes with solid encryption that's hard to crack.
One of their best features is called "VigilantBear," a service that protects you while you're connecting and disconnecting from the internet. That means if your Wifi drops or you need to move between access points, your data won't be leaked. It's the same concept as a kill-switch.
Server locations in 23 countries
Excellent customer service
Con: The speed is not consistent, and it doesn't unblock some video streaming services like Hulu and Netflix
4. HideMe
This VPN server is a bit different because it's located in Malaysia, and the regulations vary compared to other countries, but there are no strict data retention laws. And there's no need to enter your payment information for registration. Therefore, you can remain anonymous and not have to worry about your data being collected.
Since they are so lax about logging data, you don't have to worry about receiving notice for downloading copyrighted content. After all, they cannot send you a notice if they don't have your identity information.
It offers free accounts along with premium ones. You can get 2GB each month without having to pay a penny. The free version comes with decent speeds, and their apps work with multiple platforms and devices, even Amazon fire devices.
Over 1,400 servers in 35 countries
Good speeds for a free VPN
Con: It doesn't unblock video streaming services like Hulu and Netflix
5. Speedify
Speedify is another free VPN that also offers premium accounts with a monthly payment plan, but the free version comes with all the basics, including 10GB of data each month. Their VPN focuses on providing excellent speeds with secure encryption.
What sets Speedify apart from other VPNs is their streaming mode and channel bonding feature. The streaming mode provides a stable and private streaming experience, whether it's for a zoom conference or watching videos.
The channel bonding supports multiple internet connections, by tying two or more internet connections together, and will evenly distribute the traffic between your devices for maximum performance.
Server locations in 50 countries
Good speeds for a free VPN
Con: It doesn't unblock video streaming services like Hulu and Netflix.
Can You Trust A Free VPN?
Not all free VPNs are bad, but there's always a chance that some of them may be harvesting your data for their own purposes. It may be a good idea to do research and find out if they sell data to third parties and affiliates, or any other company for that matter.
It would also be helpful to read reviews from other people who actually used their services or tested their security system. Their feedback may provide some insight.
Why Using A VPN Is A Good Idea
Some people don't want to give up their data and location, instead they prefer to keep it private. The most common reasons are:
Data Theft
Government monitoring
Restrictions based on location
Avoid Throttling
Data Theft
Hackers can break into networks and steal private information or target certain people through their IP addresses. When that happens, they can use the information to access your bank account and make withdrawals or use it to charge your credit cards, etc. Most VPNs come with a secure firewall and encryption to stop that from happening.
Being anonymous has its benefits. By having a VPN, you'll be able to remain invisible to most hackers because they won't be able to track your activities or your location.
Government Monitoring
Some governments use IP addresses to monitor people. If you're not comfortable with that idea, then you can use a VPN to conceal your location. If the government tries to track the temporary IP address, it will give them the other location, and not your true location.
The VPN will also conceal your website activities, so the government won't be able to see where you've been and what content you were looking at. This also means they won't be able to censor content from you.
Keep in mind that there are some countries with laws that prohibit the use of VPNs to control the information that reaches their people. They block VPN traffic by blocking ports that are commonly used by VPNs, like PPTP or L2TP. Sometimes they will block known IP addresses of most VPN services or ban all overseas IP addresses.
Using VPN within these countries can come with risks:
North Korea
China
Egypt
Vietnam
Cuba
Bahrain
Turkmenistan
Myanmar
Belarus
Iran
Iraq
Oman
Russia
Turkey
Uganda
United Arab Emirates (UAE)
Venezuela
Restrictions & Blocks
There are companies and networks in some countries that restrict access based on the location of the IP address. Some of them use firewalls that detect location information from IP addresses. They act like blocks, so the user cannot access a certain website or information.
For example, if a country's government bans certain websites or content, then their people would have limited access. The restriction is actually placed on their IP address's location. So, if their IP address shows a different location with relaxed regulations, then it would bypass the blocks.
Note: If the country's government has the right technology, they can block different ports and certain IP addresses, so using a VPN may be more difficult– it depends on which country it is.
Avoid Throttling
Throttling is another word for when the Internet Service Provider (ISP) slows down the internet connection to Hulu or another service. The interference affects the streaming. What's worse is, it doesn't matter if you pay for the internet service.
The best way to avoid throttling is to route internet traffic through a VPN server. This way, the ISP can't see your data and what sites you're accessing. In other words, if they can't see you logging into Hulu, then they can't "throttle" your streaming connection.