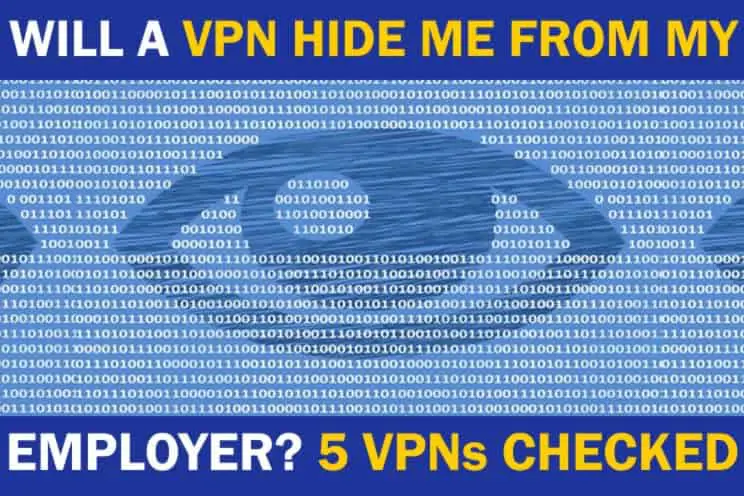 Employers track their employees' electronic devices for different reasons. In most cases, it is to track the staff's productivity and manage and protect the company's security. But if you are on the receiving end of these tracking practices, it can feel much like an invasion of privacy. Most people choose to use Virtual Private Networks (VPNs) to hide from their employers. But does it work?
Will a VPN hide me from my employer? Yes, it will. VPNs are an excellent tool for hiding your data. They encrypt your information on the network so that your employer cannot see what you are doing on your computer. However, it is not advisable to use a VPN on a company-owned device because there is a chance you may be accused of tampering with company property.
Before you decide to use a VPN to hide from your employer, there are several things you need to consider. First, you need to understand the risks of using a VPN in the workplace, and whether it is a risk you are willing to take. If you decide to use a VPN, it is crucial to know the top options available. In this article, you will learn about all these and more.
Will a VPN Hide Me from My Employer?
Most people who would like to know whether or not a VPN is the best solution for hiding from their employer have solid reasons to believe their computers are being monitored. But why would your employer monitor what you are doing on your computer and what kind of information do they see?
One of the reasons why your boss will go out of their way to monitor your device is to track your performance. Companies use spying software and firewalls to track what you are up to on the internet. They would like to know if you are using company resources to do your job or spending the entire time on social media.
Some of the things your employer will have access to include:
Your communication with others including instant messaging and email
Your browser history
How much time you spend online
How many times you visit different sites
Your files
Apps you use and how long you use them
What you type
Your boss may also track your activities on your computer to ensure you are not sharing company information with third parties.
Even if you are not doing anything wrong, finding out that your employer is watching your every move can cause some anxiety. But is a VPN the solution? A VPN is one of the best tools you can use to hide from your boss. It restricts your employer's access to all this information, leaving you room to do whatever you want online without the fear of being monitored.
However, using a VPN in the workplace may not be the best decision, especially if you are using the company's computer. Using a VPN on company devices makes it seem like you have something to hide, and it is possible to get laid off for tampering with company equipment. (Source: Limevpn)
The Best VPNs on the Market: Our Top 5
Installing a VPN on your personal device is less risky because you have every right to install any software you wish on your computer. Besides, a VPN not only hides your from your employer but also guarantees that your connection is secure. As a result, you can rest assured that your passwords, banking information, and relevant work files are not compromised when you are surfing the internet.
But to enjoy all these benefits, you need to invest in one of the best VPNs. Below are the top 5 VPNs you can rely on.
1. VyprVPN
VyprVPN is one of the leading VPNs on the market, and it is not hard to see why. For starters, the company provides proprietary technology, which means they never seek third-party assistance to offer their VPN services.
Another thing that makes VyprVPN stand out is its chameleon protocol, which is designed to defeat VPN-blocking, thereby preventing censors from knowing you are using a VPN. With this VPN, you can access blocked websites from any part of the world.
Pros
Full ownership of technology
Advanced features
Hassle-free user interface
Cons
2. IPVanish
IPVanish does not just give you secure internet protection. This VPN allows you to access geo-restrictive sites and guarantees that none of your information will be recorded anywhere on their apps. With this tool, you can also rest assured that your data is well-encrypted to hide you from prying eyes. And the best part is that you get unlimited installations, which allows you to protect all your devices.
Pros
Allows up to 5 simultaneous connections
P2P file-sharing support
Special Proxy Server Protocol – SOCKS
Cons
Pricey
Does not support Netflix streaming
3. NordVPN
If you want to connect more than one device to VPN, NordVPN is the best option for you. This tool not only offers military-grade encryption but also allows up to 6 simultaneous connections. NordVPN also has incredible features such as CyberSec, which ensures your time online is ad-free. NordVPN also features Internet Switch Kill, which guarantees none of your information is compromised.
Not to mention, NordVPN is one of the most affordable options available.
Pros
Easy to use
High-end encryption
Connect up to 6 devices simultaneously
Pocket-friendly
Cons
4. Perimeter 81
Whether you run a business on the side or want to hide from your employer, you won't go wrong with Perimeter 81.  This VPN has excellent speed, unlimited data, Trust Security, and offers 24/7 reliable customer support. With this tool, you can also access public Wi-Fi with ease, and rest assured that all your information is protected.
You also get access to dedicated getaways in over 35 locations, and you can rely on Perimeter 81 for online privacy.
Pros
Numerous security options
Two-factor authentication
Fast
Global server network in 35 locations means
Cons
Support takes a long time to respond
5. CyberGhost
CyberGhost is also an excellent choice if you are looking for a VPN you can use on multiple devices. This VPN allows you to connect up to 5 devices simultaneously. CyberGhost is also known to be user-friendly and intuitive. Not to mention, they have a friendly, professional, and helpful support staff that responds to queries extremely fast.
Another thing that makes this VPN stand out from the pack is the fact that they offer a 30-day money-back guarantee, which means you will not have to lose your money on a VPN that doesn't live up to your expectations. CyberGhost also allows P2P torrenting, access to blocked sites, and playing region-locked games.
Pros
No logging of usage
Supports multiple platforms
Accepts Bitcoin
Fast
Money-back guarantee
Cons
Weak HMAC MD5 authentication
In Conclusion
You should not take employee monitoring personally. It is your employer's responsibility to ensure their staff is doing their job and that no one is sharing private company documents with third-parties. Therefore, if it means monitoring your activities online, your boss will stop at nothing to ensure everything is running smoothly.
However, this does not mean you shouldn't protect your privacy, especially if you're using a personal computer. A VPN will not only limit your employer's access to your data but also safeguard your personal information and allow you to access different blocked sites online. So, if you decide to install a VPN, consider these top 5 options, they offer the best security and data encryption. For a detailed review check out my review of the best VPN choices here.