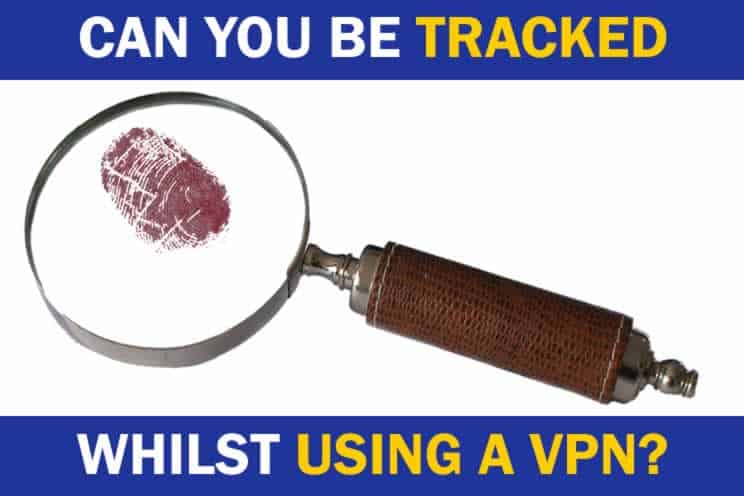 Choosing the right VPN (or virtual private network) can be a daunting experience with so many competing services and software systems available online these days. Promoted as security systems capable of protecting your privacy while surfing the internet, questions arise regarding their true capabilities.
For instance, can you be tracked while using a VPN? Yes, in theory, you can avoid being tracked, but only if you are using a VPN service that regularly monitors and updates their system.  Additionally, you will likely need to adjust your computer's operating system before you can achieve true anonymity while surfing the internet.
Our easy-to-use, no-nonsense guide will teach you everything you need to know about how VPNs work, the best services available today, and some tips and tricks for getting the most out of your system.
What Are VPNs?
A Virtual Private Network (VPN)  protects your privacy and sensitive personal data by creating a private network using a public internet connection.
You can use a VPN service to anonymize your browsing activity, to hide your location, to bypass geo-restrictions, and to block malware and ads while surfing the internet.
How Do VPNs Work?
VPNs work by creating a layered tunnel between your local device and an exit node in a different location, making it appear that you are in a different place. In effect, a VPN prevents others from knowing your internet protocol (IP) address.
Additionally, a VPN uses encryption protocol to scramble your data before sending it through a network. This encryption makes your data unreadable, preventing others from eavesdropping on your internet activities (check out my list of reputable VPNs here).
Essential Ways a VPN Protects You
VPN services protect you by hiding information that can put your sensitive personal information at risk. Below are four examples of protections provided by using a VPN[1].
1. VPNs Hide Your Browsing History
Cybersecurity expert NortonLifeLock reported[2] that hiding your browsing history is an essential aspect of side privacy to consider. Your internet service provider is capable of knowing your entire browsing history. However, when using a VPN, your history is hidden.
What happens is your online activity is not associated with your IP address. Instead, it is connected to the address of the VPN server.
Likewise, your service provider and web browsers are capable of tracking your search history by connecting it to your IP address. Using a VPN effectively blocks that ability.
2. VPNs Mask Your Location
Websites and associated services like Amazon Prime, Hula, Netflix, and YouTube use your IP address to determine your location. Using a VPN blocks detection of your actual location since the websites you use can only see the VPN's IP address.
Streaming services from many websites are not available if you are traveling, or live, outside the country of origin. Using a VPN, you can set your IP address to that of the country you want, allowing you to bypass geoblocks and censorship. This ability is also useful if you're going to torrent.
3. VPNs Encrypt Your Data
Perhaps most important, all your internet data is encrypted when you are connected to the internet using a VPN server. That means that no one can know what you are doing online to include your internet service provider and web browsers.
This encryption prevents hackers from gaining access to sensitive information like your passwords that you use when entering into websites. This process is particularly important when using public networks and Wi-Fi, as it is easy for cybercriminals to intercept your data while connected to public networks.
VPNs Protect Against Identity Theft
Identity theft happens when cyberthieves gain access to your data and use it to commit crimes using your name. Examples include applying for credit cards and services, filing tax returns, buying or renting a property, and opening new accounts (like bank accounts or money transfer accounts).
By encrypting your internet transmissions, VPN servers keep your sensitive personal data out of the reach of cybercriminals.
4. Many VPNs Block Malware and Ads
Many VPN providers block malicious websites, trackers, and advertisements. When using a VPN, all internet data is routed through the VPNs server, and many VPN service companies provide firewalls and other services protecting your computer and devices from malicious websites.
Some VPN services also block pop-ups and ads, providing an additional layer of protection against malware.
Negative Aspects of Using VPNs
Although the negative aspects of using a VPN far outweigh the negative ones, there are a few downsides to using a VPN service to consider.
Connection Speed Decrease
You can expect your internet connection speed to slow down while using a VPN. Instead of taking a straight path from your computer to the receiving website, your data is routed through your VPN service's server slowing down your data rate.
Additionally, it takes a few seconds to encrypt and decrypt your data, adding lag time to your system. 
You can optimize your speed by selecting a premium VPN service that offers high-speed servers to offset some of this lag. But some decrease in connection speed is inevitable.
Some Websites Block VPNs
Some websites offering premium services like Amazon Prime and Netflix use a list of known VPN server IPs to block individuals trying to get around geoblocks. Additionally, they are always looking for ways to detect VPN systems. For that reason, it is crucial to consider getting a premium VPN system if you intend to get around geoblocks.
It is important to note that PayPal and many online banking systems may flag your account for a security breach if you use a detectable VPN service or if you log in from a foreign IP address.
Untrustworthy VPNs Can Sell Your Private Information
Some free VPN services and other less-reputable providers are known to access and sell your sensitive personal data to third parties. Additionally, if they are in a country belonging to the 5 Eyes, 9 Eyes, or 14 Eyes agreements[3], they may, on occasion, be required to share your browsing information with the governments of those countries if requested.
These agreements create the legal framework for participating countries to intercept communications and electronic signals for counterintelligence operations, intelligence gathering, and law enforcement activities.
The 5 Eyes agreement includes Australia, Canada, New Zealand, the United Kingdom, and the United States of America.
The 9 Eyes agreement includes 5 Eyes member countries with the addition of Denmark, France, the Netherlands, and Norway.
The 14 Eyes agreement includes the 5 Eyes member countries with the addition of Belgium, Denmark, France, Germany, Italy, the Netherlands, Norway, Spain, and Sweden.
Going Incognito Versus Using VPNs
There is a lot of confusion regarding the security of using incognito mode on your computer versus using VPN servers. For that reason, we want to briefly discuss the distinction between the two services before going any further with our article.
The four main web browsers (Chrome, Edge, Firefox, and Safari) all offer some sort of "incognito" mode, be it labeled incognito, private browsing, or privacy mode.
However, as Computerworld reported[4], "privacy-promising" names can be "treacherous" as going private or incognito "is as effective in guarding online privacy as witchcraft is in warding off a common cold."
And here's why. While VPN services provide data encryption and IP blocking services, incognito browsing is limited to wiping traces of your browsing data from your local computer.
At best, so-called incognito browsing won't record your browsing and search history, save cookies, content used in forms, or remember login credentials used during online sessions. However, your internet service provider, advertisers who trace your online activities, and others who control your network can still track your online activity.
For that reason, using VPN services and not incognito mode is the way to go if securing your sensitive personal data from everyone is your goal.
6 VPN Tips and Tricks
Using a VPN is relatively simple. Installing and using VPN apps is fast and easy. However, there are a few tips and tricks that may not be obvious, particularly if this is your first time using a VPN service.
Below are six tips and tricks.
1. Selecting a Quality VPN Service
Choosing a quality VPN service is perhaps the most critical step in using a VPN as many VPN service providers promise a lot but deliver little.
Here are some points to consider when selecting a VPN service or application.
What is the cost? A free VPN service might be the best option for you if the cost is important. However, you might pay the price in other ways, such as dealing with slow internet speeds, high disconnect rates, limited support, and being served frequent advertisements.
Are there data limits? Although most upper-end VPN services offer unmetered bandwidth and no data limits, some companies limit the amount of data you can transmit. Make sure to match your needs to the VPN service you select.
Are there adequate global servers? Some VPN services only offer limited global servers. If you plan to use a VPN service for a specific country or location, make sure you check to make sure there is a server located there.
Do they use the current protocol? OpenVPN is considered the best when it comes to reliable security protocols. Make sure any VPN service you consider offers OpenVPN as an option.
Do they respect your privacy? Some of the less expensive and free VPN service providers collect and sell your data to third-party companies and services. For that reason, make sure any VPN service you consider has a no-log policy, which means they will not log or track your online activities.
Do they offer access on multiple devices? In this day and age, most consumers operate multiple devices. Ideally, you will want the ability to access your VPN on all of them at the same time. Be sure any VPN service you consider offers simultaneous access to multiple devices.
For more information regarding selecting a quality VPN service, you can check out these reviews here.
2. Employing a Kill-Switch Option
Most VPN service providers include a kill-switch feature of some kind. This option prevents your computer from receiving or transmitting any data in the event your VPN server becomes disconnected. This feature is essential to preventing even the tiniest bits of data from sneaking through the internet in an unencrypted state.
3. Selecting VPN Protocol
Most VPN service companies offer the option to select a VPN protocol. This option can be a bit confusing, and for that reason, you can always stick with the default settings.
However, if you are interested in selecting a specific protocol, PC Mag recommends[5] using OpenVPN. If OpenVPN isn't available, the next best choice is IKEv2.
PC Mag goes on to recommend that you avoid using the WireGuard protocol if it is an option in your VPN service app. It currently uses "experimental technology" that isn't safe yet.
4. Leaving Your VPN Turned On
It is up to you to decide whether to leave your VPN system running in the background at all times. However, there are reasons to consider doing so.
For example, you run the risk of creating a security breach by forgetting to enable your VPN service before the transmission of sensitive personal information.
Additionally, you might live in a location where the government or law enforcement monitors internet activity, making it essential to have the location cloaking and encryption functions enabled at all times.
5. Using a VPN With Smart TVs and Roku Devices
You cannot set up a VPN service directly on most smart TVs and Roku systems. However, there is a simple way to connect your VPN by setting up a virtual router on your Windows-based computer, which already has your VPN enabled on it.
You can use the following steps to set up a virtual router[6].
Click on the internet connection icon in the taskbar and click on Network and Internet Settings.
Next, using the left menu, click on Mobile Hotspot and turn on the Share my Internet connection with other devices button.
Then, click on Status in the left-hand menu and click where it says Change adapter options.
Now, right-click the listing for your adapter (i.e., NordVPN Tap Adapter) and click on Properties.
Next, click on the Sharing tab and check the box located next to Allow other network users to connect through this computer's Internet connection.
In the dropdown menu, select the hotspot you created earlier and then click where it says OK.
Reset your Roku device or smart TV and select Set up Connection > Wireless. Select the Wi-Fi network associated with your VPN virtual router and click Connect.
6. Disabling Location Services on Windows and Apple Systems
Both Windows and Mac Systems offer location services allowing applications and websites to gather and use information based on the current geographic location of your computer or device. For that reason, you should check your computer and disable that service as necessary as using a VPN server has no impact on that configuration.
Turning Windows Location Setting On and Off
Turning your Windows location service is simple, but may require you to look at three different locations on your computer depending on your setup.
A. Turning location off on your PC:
Go to Start > Settings > Privacy > Location.
To control the location setting for the entire device if you are an administrator, select Change, and then set the switch setting to On or Off in the location for this device message.
To control location if you are a user without admin privileges, set the switch to On or Off in the Allow apps to access your location setting.
B. Turning off location services for Cortana:
Go to Start > Settings > Cortana.
Next, select Permissions or Permissions and History.
Then, select Manage the information Cortana can access from this device.
Lastly, turn the Location setting to Off.
C. Turning off location services for Edge:
Go to Start > Settings > Privacy > Location.
Next, turn on Allow access to location on this device.
Then, turn on Allow apps to access your location.
Lastly, under Choose which apps can access your precise location, switch the Microsoft Edge setting to Off.
Turning Apple Location Setting On and Off
Turning your Apple location service is simple, but may require you to look at two different locations on your computer or device.
Disabling Location Services in OS X Mountain Lion or later
Choose System Preferences from the Apple menu.
Next, click the Security and Privacy icon in the System Preferences window.
Then, click the Privacy tab.
If the padlock icon in the lower left is locked, click it and enter an administrator name and password to unlock it.
Select Location Services.
Lastly, uncheck the Enable Location Services checkbox.
Disabling Location Services in Safari 6 or later
Safari will automatically ask you if you want to share your location with a geolocation-enabled website. Simply click Don't Allow in the sheet that appears when accessing the site.
Additionally, you can reset all website authorizations by choosing the Reset Safari option from the Safari menu. When the Reset all location warnings sheet appear appears, select the Reset all location warnings option.
You can reset all your website authorizations by selecting Reset Safari from the Safari menu. Next, select the Reset all location warnings option in the Reset Safari window.
Then, all you need to do is follow these steps to disable location services for Safari.
From inside Safari select Safari > Preferences.
Next, click the Privacy icon in the Preferences window.
Then, select the Deny without prompting option.
In Conclusion
Having a VPN system is a great way to secure your sensitive personal data while using the internet. Additionally, using a VPN is a great way to cut through geoblocks and to provide online anonymity.
Depending on your particular goals and budget, a variety of VPN services are available today. So, you might want to bookmark this article for future reference.
Sources:
[1] https://www.vpnmentor.com/blog/vpns-101-vpnmentors-vpn-guide-newbies/
[2] https://us.norton.com/internetsecurity-privacy-what-is-a-vpn.html
[3] https://protonvpn.com/blog/5-eyes-global-surveillance/
[4] https://www.computerworld.com/article/3356840/how-to-go-incognito-in-chrome-firefox-safari-and-edge.html
[5] https://www.pcmag.com/how-to/how-to-set-up-and-use-a-vpn
[6] https://www.vpnranks.com/setups/nordvpn-roku-setup/