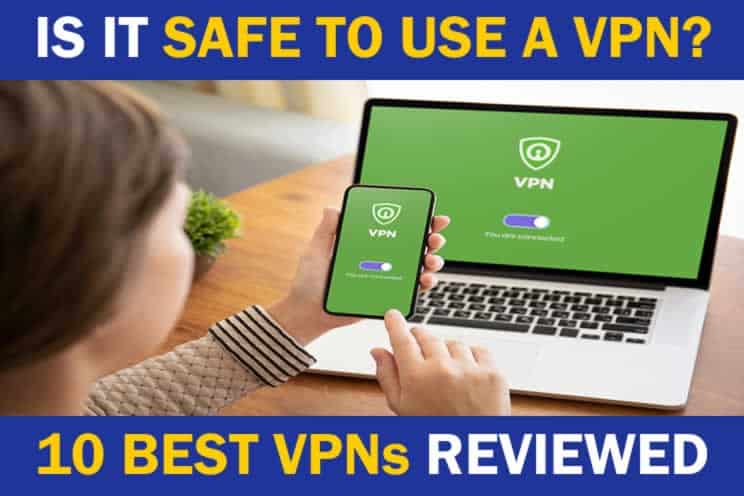 The Internet has become commonplace in not only households but also public spaces. There is almost always a WiFi network you can connect to, but that doesn't mean it's always safe. Recently, Virtual Private Networks (VPNs) have gained traction as the best way to safeguard your private information, but can they be trusted?
Is it safe to use a VPN, and what are the ten best VPNs? Yes, it is safe to use trusted Virtual Private Networks. The ten best VPNs to invest in are:
Nord VPN
Express VPN
Private Internet Access
Tunnelbear
Strong VPN
Pure VPN
IP Vanish VPN
Tor Guard
Norton Secure VPN
Cyber Ghost
Be sure to read on to find out everything you need to know about Virtual Private Networks, keeping your data safe, and why these ten VPNs are the best ones currently available!
What is a Virtual Private Network?
According to How to Geek, a Virtual Private Network (VPN) gives you the ability to connect to a different network over the Internet and use their system. In other words, you use your device to connect to your VPN. Then, the VPN connects you to a different device over the Internet (commonly referred to as a "server"), and you can browse the Internet as if you had logged into that server in the first place!
How Does It Work?
When it comes to internet safety, VPNs can help protect your information by acting as a security guard. Without a VPN, your connection to an internet network is direct. The information you search for is shared directly with the server, and the server directly shares its response with your device.
When you have a VPN enabled, your device sends the information you are searching for to the VPN, it encrypts this and sends this information to the server. The server then responds to the VPN; it encrypts this response and sends it to your device. All from over the Internet!
Other Uses of a Virtual Private Network
Besides being a great tool to protect your device's sensitive information over the Internet, VPNs can be used for an array of activities while browsing.
Here are six other advantages to using a Virtual Private Network:
Geographic Restrictions – Sometimes, there are television shows or movies that are not allowed or available in certain countries. You can bypass this digital block with a VPN as it will trick the server into thinking that you are located in a country that allows the media.
Streaming – Streaming through services such as Netflix or Hulu becomes a bit less choppy due to better connection to their servers.
Security on WiFi Hotspots – If you are connecting to an open WiFi network, especially in a public place, a VPN can help protect your information from hackers and people trying to connect to your device.
Hide Your True Location – If a website requests access to your location, you can use your VPN to change your location and protect your privacy.
Torrenting – Just like how they protect against hackers on a public WiFi network, VPNs can help protect your data when torrenting.
Business Traveling – Besides keeping your data safe as you travel for business, VPNs can also give you access to all of your local networks back at home. You can even set up your personal computer and access files remotely!
Browsing History – Usually, when you connect to a network, anyone on that network that knows how to access simple HTML can see your browsing history and the websites you visit. With a VPN, the only searching they can track is that you opened a VPN. Everything else that you search for is stored on the actual VPN, giving you some protection against websites that feed off your taste cluster.
Is It Safe to Use a Virtual Private Network?
Short answer: Yes and no. Long answer: It depends on who is running the Virtual Private Network. According to Life Hacker, you need to be sure what your VPN is tracking and saving when it comes to your searches. Most services will never advertise keeping your information, but that does not always mean that no one has access to your data.
Some VPNs will sell the encrypted search data from their network to advertisers. As with most things in life, there will always be a corrupt few who ruin it for the rest. These VPNs will give you a false sense of security against site tracking only to make a profit from your search results – or worse, they will only protect your search history and leave the rest of your device's network vulnerable.
The three best ways to know if a Virtual Private Network is trustworthy are:
Read their privacy policy in detail.
Research and find reviews.
Do not use "free" Virtual Private Networks.

They have to get their money from somewhere, and that usually comes in the form of selling your information.
Ten of the Best Virtual Private Networks
Because some VPNs are not as trustworthy as others, it can be overwhelming to know which one you should get for your network. All of the VPNs listed below have the traditional requirements of a VPN (ability to change geolocation and private network encryption) but be sure to read on below though for each of the network's reviews, pros and cons, and any other information you should know before purchasing!
Nord VPN
If you are a frequent visitor to YouTube, you have probably heard your favorite Content Creators talking about Nord VPN, and for a good reason! According to VPN Mentor[1], users give Nord VPN a rating of 4.9 out of 5.0. It has a rating of #1 Virtual Private Network out of 358!
Below are all the specs, pros, and cons of Nord VPN.
Quick Specs for Nord VPN:
Tiered Plans Based on Length – Rather than charging for services based on the number of devices, Nord VPN has three tiers for the length of the account.

One month, one year, three years.

Blocks ads –  The feature that wows users is Nord VPN's ability to block ads on websites.
Static IP address – For an extra cost, users can get access to a static IP address in select countries (France, Netherlands, Germany, United States, and the UK).
Pros of Nord VPN:
Can use up to six devices at once.
IP address is hidden from the outside world
Servers in 59 countries, including South Africa

5,300 servers in total around the world
Cons of Nord VPN:
Has had issues with server security in the past.
On the more expensive side
No free trial version

Does have a 30-day money-back guarantee
Express VPN
Express VPN is probably best known for its lightning-fast speed capabilities. From VPN Mentor[1], users give Express VPN a rating of 4.9 out of 5.0. It has also won the award for "Best Virtual Private Network for Speed."
According to PC Mag Reviews[2], below are the specs, pros, and cons of Express VPN.
Quick Specs for Express VPN:
Tiered Pricing Based on Length of Account – The longer you sign up for Express VPN, the cheaper it ends up being.

One month, six months, 15 months

Diverse Server Locations – One of the few Virtual Private Networks that have access to countries with restrictive internet policies (Turkey, Russia, and Vietnam).
Virtual Servers – Along with the physical servers, Express VPN takes advantage of virtual servers to increase their overall speed.
Pros of Express VPN:
Incredible torrenting speeds
Set up takes about four minutes
Easy interface
Can be purchased through bitcoin
Cons of Express VPN:
Can be expensive
No free trial

Does offer 30-day money-back guarantee

Only allows three connected devices at a time
Private Internet Access
Private Internet Access is a VPN that offers everything you could need from your VPN without clogging the user down with fancy add-ons. VPN Mentor[1] users give Private Internet Access VPN an overall rating of 4.5 out of 5.0.
PC Mag[2] lists the following specs, pros, and cons of this VPN:
Quick Specs for Private Internet Access:
Three options for length of service – Along with a 30-day money-back guarantee, Private Internet Access (PIA) offers three different account lengths.

Per month, six months, per year

Multiplatform accessible – From your computer to your gaming devices, PIA can handle protecting any device connected over the Internet.
Ad blocker – There is no need to purchase an add-on for an ad blocker as it comes with this VPN.
Pros of Private Internet Access:
One of the most popular VPNs on the market
Allows up to ten devices to connect at one time
Easy to use interface
Offers 3,341 servers worldwide
Cons of Private Internet Access:
Inconsistent when it comes to connecting to streaming sites such as Netflix

Cannot access Netflix libraries outside of the United States or the UK

Speeds can vary depending on location
Incredibly lengthy and hard to understand privacy policy

Does keep track of user's email addresses
Tunnelbear
Acquired by the anti-virus software company McAfee in 2018, Tunnelbear takes a unique approach toward VPNs. VPN Mentor[1] users rate Tunnelbear with an overall 4.3 out of 5.0, with Features being the highest measure (4.5 out of 5.0) and Pricing the lowest measure (3.8 out of 5.0).
According to PC Mag Reviews[2], below are the specs, pros, and cons of Tunnelbear:
Quick Specs for Tunnelbear:
Three-tiered plan – Their plan relies on the length of the account and is cheaper the longer you sign up for it.

One month, one year, or three years

Free account – Full access to Tunnelbear up to 500MB per month
Ghostbear mode – Hides your VPN traffic, which can be helpful in countries that have strict internet censorship or surveillance
Pros of Tunnelbear:
Access to a free ad blocker

But it is only available as a browser extension

Able to have up to five devices connected at once
No third-party interaction, except to collect payments
Obvious and easily explained privacy policies
Cons of Tunnelbear:
Not able to geolocate to watch streaming services such as Netflix, Hulu, or BBC
Located in Canada, so the company has to surrender any data requested by the Canadian government

However, Tunnelbear boasts never keeping a log of user information, so there would not be anything for them to surrender.

No refunds
No servers in Africa, the Middle East, or much of South America
Strong VPN
Strong VPN is not only a private network, but it also grants access to WireGuard; WireGuard is a VPN protocol (required upon using any VPN but is usually limited) that gives full access to all of its features. It helps put Strong VPN on the map as VPN Mentor[1] users rate Strong VPN with a 4.0 out of 5.0 overall. The best feature being Ease of Use (4.3 out of 5.0), and the lowest rating going to price (3.4 out of 5.0).
According to the Strong VPN website, here are the specs, pros, and cons of using their services:
Quick Specs for Strong VPN:
WireGuard Access – This VPN protocol allows users to have faster speeds and increased performance without needing extra memory or CPU resources.
Two-tier pricing – Currently, Strong VPN only has two tiers for pricing and length of the account.
SugarSync – Cloud service offered by Strong VPN.
Pros of Strong VPN:
Allows for up to 12 devices to be connected at one time

Users do not have to pay extra to get access to the extra devices. It is included in both account types

Added security through WireGuard private tunneling
Can be used on Skype when making phone calls

Be charged for a domestic call even though you are calling internationally
Cons of Strong VPN:
Based in the United States, so Strong VPN has to adhere to data privacy seizing laws from the US government
They do keep partial logs of your search history

Strong VPN claims that they delete these logs 15 minutes after you close out your browser and VPN

Only 650 servers worldwide

Minimal access to countries outside of your own

Download speeds are variable when connecting to different servers, even within your own country

I.e., some servers in the United States have faster download speeds per state than others
Pure VPN
Pure VPN happily brags about their seemingly endless add-ons available to users. From dedicated IP addresses to DDOS Protection, these features seem to bring people back again and again.
According to VPN Mentor[1], users rate Pure VPN with a 3.8 out of 5.0 overall, with a 4.5 out of 5.0 for pricing and 2.9 out of 5.0 for reliability and support. The review site also gives the following specs, pros, and cons of using Pure VPN.
Quick Specs for Pure VPN:
Seven day paid trial – Offers a seven day paid trial for less than a dollar.
Split Tunneling – Gives users the option to decide which data they would like to send through the ISP and VPN.
Hong Kong Based – Based in Hong Kong, so they are not required to save any data.
Pros of Pure VPN:
Allows premium users to gift accounts to others
Multiple logins from a single account

Between 5 and 10, depending on the plan

Over 2,000 servers
Unlimited bandwidth allowing for so many devices
Cons of Pure VPN:
Has a weaker encryption protocol

Forces users to choose between better encryption or faster speeds

Laggy connection to United States' servers
2016 cyberstalking investigation

Pure VPN claims that they do not save any logs or information on their users, but they were able to supply a user's full logs during a court hearing.
IP Vanish VPN
IP Vanish VPN is a VPN that has grossly fallen under the radar. It can offer plenty for its users without breaking the bank. Max Eddy from PC Mag[2] gives IP Vanish VPN a rating of 4.0 out of 5.0 for the powerful features and overall value of services.
Here are the specs, pros, and cons of using IP Vanish VPN as your privacy protector:
Quick Specs for IP Vanish VPN:
Automatic IP cycling – Keeps your real IP protected and untraceable.
Three-tier pricing options – There are three monthly price options based on the length of the account. The longer you have your account, the cheaper the prices become.

One month, three months, one year

Zero logs policy – IP Vanish VPN boasts that they do not keep any data on their users nor log any of their searches/information.

However, they have yet to submit to an outside party's audit to prove that they do not log this information from their users
Pros of IP Vanish VPN:
Allows up to ten connections at once without loss of speed
Includes Sugar Sync, an encrypted cloud backup access with every account

Usually listed as an add-on that you have to pay extra for with other VPN providers

Servers in Africa and South America
Cons of IP Vanish VPN:
Interface is not the most user friendly
Complicated privacy policy

Not very straightforward or written for users

Never had a third-party audit to prove they do not log information
Tor Guard
Although not as well known as its other VPN counterparts, what Tor Guard is known for is being a VPN that has strong torrenting capabilities. According to VPN Mentor[1], users rate Tor Guard with a 4.0 out of 5.0 overall with their strongest suit being Reliability and Support at a 4.5 out of 5.0.
From PC Mag's[2] review on Tor Guard, here are the specs, pros, and cons you should know before you purchase:
Quick Specs for Tor Guard:
Dedicated IP Add on – Never struggle with bank accounts that do not recognize your IP address or captchas again!
Different pricing based on length of account – The longer you have your Tor Guard account, the cheaper the price is.

Billed either: monthly, annually, or semi-annually

Built-in Ad blocker – No need to purchase an extra add-on to remove pesky ads from your browser!
Pros of Tor Guard:
Unlimited speeds and bandwidths
Over 3,000 servers worldwide
Supports port forwarding, which can help your transferring rate
Automatic kill switch if anything should happen to your VPN
Cons of Tor Guard:
Forced to purchase dedicated IP add on if you want to access Netflix
Interface and app design is less than ideal
Had a server breach in 2018

Disclosed the event quickly

Slowed download speeds when switching to United States servers
Norton Secure VPN
Norton Secure VPN comes from the same company famous for its anti-virus and anti-malware software. According to VPN Mentor[1], users rate Norton Secure VPN with a 3.1 out of 5.0, with the best feature being the price (4.4 out of 5.0), and the worst part is Reliability and Support (3.2 out of 5.0).
The specs, pros, and cons of Norton Secure VPN are:
Quick Specs for Norton Secure VPN:
Device tier pricing – They have plans ranging from 1, 5, and 10 devices, each with its own monthly and annual pricing.
Anonymous browsing – Online privacy is protected from being tracked by advertisers.
Travel friendly – You have access to your VPN anywhere and on any device.
Ad tracking block – You can block and restrict a website's ability to track your searches to try and customize advertisements for you.
Pros of Norton Secure VPN:
Comes from a trusted company with years of internet protection and customer service
Ability to upgrade to include more security software
Servers in 73 locations
Cons of Norton Secure VPN:
No VPN servers in China, Russia, or Vietnam
Does collect some anonymized information relevant for research

I.e., "This number of users visit this website," without being able to name all the users.

Does not support Bit Torrent

Will not even open most torrent websites
Cyber Ghost
With 15 years of experience, Cyber Ghost has tons to offer, especially in the video streaming world. According to VPN Mentor[1], users give Cyber Ghost an overall rating of 4.8 out of 5.0 with their highest ranking for Ease of Use a perfect 5.0 out of 5.0 and pricing being the worst with 4.7 out of 5.0 respectively.
From VPN Mentor's[1] review on Cyber Ghosts, here is everything you need to know about their services and the pros and cons of their features:
Quick Specs for Cyber Ghost:
Three-tier pricing based on account length – The longer you have Cyber Ghost for, the better the deal.

One month, one year, three years + 2 months free (yes, two extra months for free with a three-year plan!)

Compatible with most devices – Along with browser extensions for Google Chrome and Firefox, Cyber Ghost has native apps for Windows, Mac, Linux, iOS, Android, and most television sticks.
Pros of Cyber Ghost:
Can stream sporting events with ease
Some servers increase connection speed
Up to seven devices can connect at one time
Cons of Cyber Ghost:
Very expensive! Could easily pay into the hundreds per year for only half the features of other VPNs
Interface is a bit clunky in design and use
Currently do not have any servers in China
Despite all of the features and good reviews, it is listed at the bottom for its expensive pricing! However, if the price is not an issue for you, Cyber Ghost can be an excellent Virtual Private Network to invest in.
In Conclusion
VPNs are one of the safest options to keep your searches and information safe from the Internet. There are many different VPNs to choose from that cater to various users and their preferences. Just be sure to do your research, know what you need from your VPN, and do not use free services! (Except for Tunnelbear and its 500MB limited free account).
Sources:
[1]VPNMentor
[2]Express VPN, Private Internet Access, Tunnelbear, IP Vanish, TorGuard