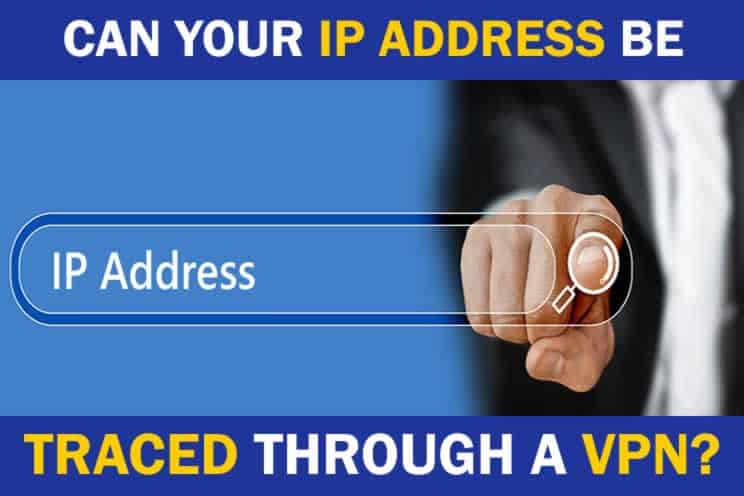 Keeping my identity anonymous on the internet is important to me as I believe I have a right to privacy. I don't want to end up with the websites I visit tracking me and using a VPN seems a good option for me to research.
Have you ever wondered why you get flooded with ads for workout equipment soon after you do an internet search for elliptical bicycles? Do you feel even a little more concerned that those ads promote retailers near where you live? Well, this happens because your ISP (Internet Service Provider) address is logging your movements and sharing your data. Yes. It is completely legal for them to share information you feel is private. So, what can you do about it?
Can your IP address be traced through a VPN? The real IP address can only be traced using a VPN if the VPN leaks the real IP address. The VPN can leak the real IP address if it has poor DNS leak and WebRTC leak protection. Or it doesn't have a good Kill Switch that stops the real IP address from being being protected when the VPN connection fails, leaving it visible to the Internet Service Provider (ISP) and any websites visited.
VPNs, Virtual Privacy Networks mask the Internet Service Provider (IP) address, the real IP address, by routing all connections to an IP address that the VPN creates. Even so, it may be possible for someone with the right legal need and documentation to be able to get to the real IP information, especially if the VPN chosen doesn't provide the level of protection necessary to remain anonymous.
This may lead you to wonder whether or not a VPN is worth looking into. The answer is yes. For the average computer user, a VPN adds another layer of security to your internet searches and can help protect you from identity theft. This article will delve further into VPNs and their value.
The Value of a VPN (Virtual Privacy Network)
A VPN is a portal that, once you've initiated it, encrypts the data you are sending across the internet so that the information you're searching for and/or retrieving, is kept relatively secret (check out my review of the best VPN choices here).
Why relatively secret? Well, depending on the VPN you use, you will find that many of the companies offering them are either required to keep logs of your activity or choose to keep logs of your activity. There are a few companies that are very serious about protecting your anonymity, but they are still subject to legal requirements such as subpoenas.
Note: This article is not intended to offer legal advice, but rather is intended to provide information about entertainment and various internet security options.
So, How Does a VPN Work?
Let's start with your ISP. At some point, you signed up with an internet provider. That provider has the data that links you to your specific location via their server. So what? Everyone has that, right?
That's actually the point. Bad actors know who the general internet providers are and have no qualms about hacking into them to get your information.
What is a Bad Actor?
When you think about anyone who is willing to do whatever it takes to take advantage of you, to get your personal information, you have imagined a bad actor. In the most basic terms, someone who wants to act badly toward you, usually in some sort of a masked or hidden manner, is a bad actor.
Bad actors are people who perpetrate fraud. Those who steal money from people through Ponzi schemes. Ruthless people who prey on senior citizens or vulnerable individuals. In other words, people with despicable motives.
Here's the thing, though. You won't always know you're falling for a bad actor – in fact, most times, you won't.
When you're at the coffee shop, hospital, or airport, have you ever noticed that there seem to be multiple available internet connections that all have similar, and believable names? XYZairportcustomerportal.web and XYZairportcustomer.web? It is likely that one of those is a skimmer site intended to get you to log in, so your information is easy for a criminal to take.
To avoid falling for this, always confirm the actual website address with someone who works at the remote location in which you are working.
So, How Do You Avoid Giving Up Your Information?
Once you've confirmed the correct internet address and made your initial connection to the internet, you will immediately activate your VPN connection. You are then routed to a completely different, masked server. A safe server. Some VPNs even allow you to designate the location of the server to which you will connect – in some cases, even in a different country.
As a result of using a VPN, your physical geolocation is now misdirected as a completely different location. This keeps your private information, well…private.
The VPN's other benefit is that it completely encrypts your data. That means that, without the decryption key provided by the VPN provider, nobody can read what you're transmitting across your internet connection.
Why Have a VPN Stored on Your Device?
Here is a classic example of why you would want to have a VPN service stored on your device(s):
Think about when you're at the local coffee shop or traveling and using the hotel's free internet. That open internet connection has no guaranteed security. In fact, when you connect, it has a disclaimer stating that it isn't responsible for anything that happens with your data while you're using that connection.
By activating your Virtual Privacy Network once you're connected to that open internet connection, you can now surf the internet with the confidence that your privacy is intact.
If your router is compatible with the VPN provider you choose, you can download the VPN directly to your router. That will protect you at home.
But… That doesn't do anything for you when you are out and about.
4 VPN Tricks Used to Protect Your Identity
To make sure your VPN service protects you while you are away from your local router, consider the following when researching your VPN provider options:
1. Check to see what their privacy policies are when it comes to what they do with your data.
Not all providers protect your data – some are willing to sell your personal information to advertisers. Other providers keep logs of your activity. There are a few providers who maintain a minimal amount of your information so you can retain as much privacy as possible.
2. Make sure you can download the VPN app to multiple devices and/or multiple platforms.
Check the VPN provider's use policies. Is there a limit to how many devices you can operate under that subscription? Do you have to have multiple subscriptions to operate on multiple devices or multiple operating systems? For example, do you have a Windows-based laptop but an iOS tablet?
3. Double-check to make sure that the VPN supports mobile devices.
Not all VPN options support mobile devices. When you are comparing vendor options to decide which is best for you, make sure that you will be able to download the app to your smartphone and/or tablet and that it's designed to work with your mobile device.
4. Understand how many alternate server locations the VPN provider offers.
One of the benefits of a Virtual Privacy Network is your ability to decide where you want to connect. Do you live in Seattle? Want to connect in Houston? Make sure that's an actual option.
Traveler Beware
VPNs are legal in most of the Western world, but they're also illegal in certain countries. In the two tables below, there's a rundown of where you can and can't use VPNs[1].
Places Where VPN Usage is Banned or Illegal:
| | |
| --- | --- |
| Belarus | China – The Government has designated certain VPN Providers as illegal |
| Iran | Iraq   |
| North Korea | Russia – The Government has designated certain VPN Providers as illegal |
| Turkey | Turkmenistan |
| Zimbabwe |   |
VPN Usage banned or illegal
Places Where VPN Usage is Monitored or Heavily Regulated:
| | |
| --- | --- |
| China – The Government owns all IP Addresses and blocks all sites deemed Unacceptable | Oman – Users are required to obtain a permit to use a VPN |
| Russia – Only certain VPN providers have been designated as legal | Saudi Arabia |
| Uganda | United Arab Emirates |
VPN Usage monitored or heavily regulated
If you are bound and determined to use a VPN in a location where it is not legal, you will need to first download it in a country where its use is legal. That said, being caught using a VPN in any location where it is deemed illegal can result in not only significant fines (in some cases in the tens of thousands of American dollars) but also a strong jail or prison sentence.
Most free speech sites are also illegal in the above-listed countries.
There is quite a large list of countries where you can legally use a VPN. These are always subject to change, so please take the time to double-check your local government's stance on the use of VPNs.
Countries Where Use of VPNs are Legal
| | | | | |
| --- | --- | --- | --- | --- |
| Afghanistan | Albania | Algeria | Andorra | Angola |
| Antigua and Barbuda | Argentina | Armenia | Australia | Austria |
| Azerbaijan | Bahamas | Bahrain | Bangladesh | Barbados |
| Belgium | Belize | Benin | Bhutan | Bolivia |
| Bosnia and Herzegovina | Botswana | Brazil | Brunei | Bulgaria |
| Burkina Faso | Burundi | Cape Verde | Cambodia | Cameroon |
| Canada | Central African Republic | Chad | Chile | Columbia |
| Comoros | Democratic Republic of the Congo | Republic of the Congo | Costa Rica | Croatia |
| Cuba | Cyprus | Czech Republic | Denmark | Djibouti |
| Dominica | Dominican Republic | Ecuador | Egypt | El Salvador |
| Equatorial Guinea | Eritrea | Estonia | Eswatini | Ethiopia |
| Fiji | Finland | France | Gabon | Gambia |
| Georgia | Germany | Ghana | Greece | Grenada |
| Guatemala | Guinea | Guinea-Bissau | Guyana | Haiti |
| Honduras | Hungary | Iceland | India | Indonesia |
| Ireland | Israel | Italy | Jamaica | Japan |
| Jordan | Kazakhstan | Kenya | Kiribati | Kosovo |
| Kuwait | Kyrgyzstan | Laos | Latvia | Lebanon |
| Lesotho | Liberia | Libya | Liechtenstein | Lithuania |
| Luxembourg | North Macedonia | Madagascar | Malawi | Malaysia |
| Maldives | Mali | Malta | Marshall Islands | Mauritania |
| Mauritius | Mexico | Micronesia | Moldova | Monaco |
| Mongolia | Montenegro | Morocco | Mozambique | Myanmar |
| Namibia | Nauru | Nepal | Netherlands | New Zealand |
| Nicaragua | Niger | Nigeria | Norway | Pakistan |
| Palau | Palestine | Panama | Papua New Guinea | Paraguay |
| Peru | Philippines | Poland | Portugal | Qatar |
| Romania | Rwanda | St. Kitts and Nevis | St. Lucia | St. Vincent and the Grenadines |
| Samoa | San Marino | Sao tome and Principe | Saudi Arabia | Senegal |
| Serbia | Seychelles | Sierra Leone | Singapore | Slovakia |
| Slovenia | Solomon Islands | Somalia | South Africa | South Korea |
| South Sudan | Spain | Sri Lanka | Sudan | Suriname |
| Sweden | Switzerland | Syria | Taiwan | Tajikistan |
| Tanzania | Thailand | Timor-Leste | Togo | Tonga |
| Trinidad and Tobago | Tunisia | Tuvalu | Uganda | Ukraine |
| United Kingdom | USA | Uruguay | Uzbekistan | Vanuatu |
| Vatican City | Venezuela | Vietnam | Yemen | Zambia |
Note: Just because the use of VPNs is legal in the above-listed countries, it doesn't mean that there aren't censorship practices in place. There are sites that countries block for various reasons.
Likewise, if your VPN provider finds that you are frequenting sites that represent illegal activity in the USA, such as child pornography, pirating copyrighted material, selling drugs, spreading viruses, or soliciting or contributing to terrorism, your VPN provider is required to notify law enforcement.
Legitimate Reasons to Use a VPN
Just because there is a fringe population who would try to mask illegal activity, there are still very good reasons for the average citizen to take advantage of the use of a VPN.
Personal Security
It's so common to check the web when you're at a restaurant or coffee shop, that it's easy to forget that the experience is not secure.
As we've touched upon, there are many fraudsters who are interested in obtaining your personal and/or banking information. There are also those who get a kick out of planting malware or spyware on your device via your connection. Using a VPN can provide an additional layer of security to your existing cyber-security software.
These days, most reputable sites start with https: to indicate that they are a secure site. In the earlier days of the web, we were used to the http designation. The https takes websites to the next level. VPNs add an additional layer of anonymity.
Company Security
If you or your employees travel or access company information from a remote location, it is important to keep your company data confidential. Some companies add an RSA token to the VPN connection to add to the amount of encryption provided.
Accessing Your Streaming Accounts from a Different Country
This is a bit of a gray area, so you will want to check with your streaming company first. There are times when programs are not available in a different country than the one where your subscription originates. There are typically terms of use agreements that you had probably clicked through when you subscribed that address this.
If you're traveling to the UK and want to be able to watch your US-based program, call your streaming provider first to make sure it won't impact your ability to continue your streaming membership.
That said, some large companies, some streaming companies included, block VPNs to make sure they aren't violating certain countries' policies. Likewise, financial institutions block certain countries because they are on government lists forbidding financial transactions.
Well, Then, What Information Does the VPN Provider Capture?
This is going to depend upon the Virtual Privacy Network you use.
There are free VPNs available. Here's the thing about them… they are a business, and they need to make their money somehow. If they're not making their money by charging you a subscription fee, they're making it somehow.
It's likely they're not only making money by selling advertisements that are being passed to you via your VPN, but they're probably also selling your browsing information to their advertisers.
In general, your VPN provider will capture:
Connection and disconnection timestamps for your VPN session
How you've paid your VPN subscription bill
The IP addresses you've used to connect to your VPN session
Which devices have been used
Your actual site activity
The question you really want to ask is for how long they keep this information on file. Do they retain the information for 48-hours? 30-days? 90-days? That's what you want to know.
Is it Possible for My Information to Be Leaked through my VPN?
It's rare, but it is possible. If you experience a DNS (Domain Name System) leak on your Windows-based device, someone who is working to snoop on your connection may be able to temporarily determine what site you're visiting because the information was sent directly to your IP (internet provider) rather than going through your VPN.
If you are using a reliable VPN service, you should not have to worry about data leaks.
If you want to check whether or not your device may be experiencing a data leak, you can use a site such as https://www.dnsleaktest.com. It offers a standard and expanded test so you can determine how secure your connection really is.
Is There Anything Else I Should Consider Along with a VPN?
The Onion Router (TOR) lets users communicate anonymously. It also encrypts your information, but it also bounces your connection through thousands of relays around the world.
Using TOR can mask not only your online activity but also your actual geolocation.
That said, it's important to know that there is legislation being considered to prevent this type of connection from being a legal use of the internet. For now, it is legal, although not all VPNs allow you to do this. It is another question to research as you look for your Virtual Privacy Network provider.
Reliable VPN Providers on the Market
These are some of the benefits you will want to make sure your provider offers:
Effective management of your internet speed – your ISP won't be able to limit your internet speed during your time online. Without a VPN, your local ISP may reign in the amount of speed you can use based on the number of users that are online at one time.
Thousands of servers around the US and the rest of the world.
Private and secure browsing providing encryption
Anonymous downloading P2P and torrents
The following providers include each of those benefits:
NordVPN – They are known for the "best balance between privacy and speed. They also provide double encryption and 24/7 live support."
Surfshark – Confirms they offer "several user-friendly apps for all major platforms."
ExpressVPN – They state they offer "ultra-fast and incredibly secure connections without logs."
CyberGhost – The say you can "choose from over 5,600 servers in 90 countries, and they have user-friendly apps for all major platforms."
PrivateVPN – They claim they offer "unlimited bandwidth and military-grade encryption."
Will the VPN Replace My ISP?
Unfortunately, no. The key to the VPN is that it works in conjunction with your internet provider. You have to be able to first connect to the internet before you activate your VPN connection.
Think of your VPN connection as your own personal security team that surrounds you anytime you're on the internet. You know… kind of like a whole team of Dwayne "The Rock" Johnsons. They smile at you and provide you reassurance, but when a bad actor tries to spoof your device from 300-500 feet away from you, they give him a smackdown.
As your online accesses become more sophisticated, your security protocols need to become much more enhanced as well.
The $5 to $10 you spend per month can provide you the peace of mind you need as you spend time working and playing on the internet.
Sources:
[1] https://vpnpro.com/vpn-basics/are-vpns-legal-in-my-country