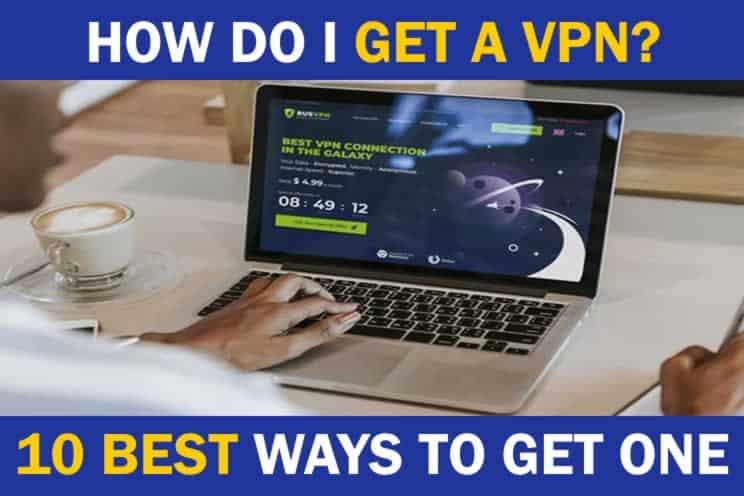 Finding a reliable virtual private network (VPN) can be like finding a needle in a haystack in a world full of scammers. But finding the right one can be invaluable in our rapidly changing online world. Fortunately, I have provided you with a guide on the 11 best ways to get a VPN.
How Do I Get A VPN? The 10 best ways to get a VPN are:
Using a site-visit analysis tool
Getting a VPN for travelers
Looking for a VPN that doesn't maintain user logs
Start out with a free VPN
Get a router-based VPN
Get a reliable VPN for streaming movies
Find a user-friendly VPN for beginners
Check your VPN speed
Ask your employer if they have a VPN
Advance your knowledge on VPN with helpful resources
In this guide, you will also find out which specific VPNs are among the frontrunners. You will find out how to connect to a VPN that best suits your needs, whether those needs are entertainment-related or business-related, and how to know which one is right for you.
What Is A VPN?
A virtual private network (abbreviated VPN) is a secure connection between a computer and a protected or private network on top of an otherwise insecure public network such as the internet.
When you are logged into a VPN, the data passed over the public network is encapsulated (or wrapped up) and translated into a special hard-to-break code (encrypted).
There are many reasons why you would want to encrypt your data. If you use an unsecured Wi-Fi, then you are playing a bit of a dangerous game because hackers can gain access to your vital information.
If you are working remotely, you will want to make sure that you are doing so in a network that is secure.
VPNs are a must for those who travel quite a bit, especially internationally. Some other countries may put restrictions on their servers that prevent you from doing your job to your full ability while you are overseas.
VPNs also provide consumers with the opportunity to connect to servers across the globe. This can allow you to access media that is normally restricted to individuals living within a specific region (check out my review of the best VPN choices here).
1. Use A Site-Visit Analysis Tool to See How Popular a VPN Is
Navigating the often treacherous waters of selecting a quality VPN requires you to do a little homework first. Some VPN products can be deceiving and won't deliver the internet speed and privacy that has been advertised.
One way that you can find out if a specific VPN is the real deal or not is to look at online reviews. Some online reviews may be misleading, though.
Using a site visit analysis tool such as SimilarWeb is one good way to see how popular a given VPN is.
You will find a search bar at the top of the site that says, "Analyse Any Site Or App." Type the name of the site or app that you want to analyze, and you will be taken to a page displaying data on how much internet traffic the site or App gets.
Relevant data displayed on the VPN include:
Usage Rank By Country
Google Play Rank
Comparison With Other Similar Apps
2. Get A VPN For Travelers
If you travel quite a bit, it is important to keep your mobile devices safe and secure. You can accomplish this by getting a VPN for your tablet, laptop, or phone.
If you find yourself on a public wireless that anyone can use, you're at risk of online intruders spying on the websites you visit to steal passwords and other credentials you entered.
Utilizing a VPN app on your mobile devices provides you with much-needed information safety when you are connected to any public access network. Bear in mind that not all VPNs are created equally. Some are weaker than others when it comes to security.
Many mobile devices have built-in VPN capabilities, including:
Macs
PCs
iPhones & iPads
Android devices
In many cases, you will need to install an app in order to access a VPN.
One of the more popular VPN apps available for Android and Amazon devices is IPVanish VPN. This VPN app comes with access to over 13,000 VPN servers worldwide and does keep logs recording user activity.
TorGuard is another popular VPN. One of the positives of this VPN app is the capability to add five devices for just one subscription. The subscription options also come in pricing tiers dependent upon your demand, as is the case with most VPN services.
TorGuard also delivers in terms of speed. Interestingly enough, IPVanish VPN also rates well in terms of speed and performance. Another plus for TorGuard is the number of add-ons within the app that allows users to customize their security plans.
All this is to say that you should definitely do your homework when you are looking to set up your mobile devices on a VPN.
3. Look For A VPN That Doesn't Maintain User Logs
You should do your homework before buying a VPN because some may not offer the security benefits that you are looking for.
In fact, some of these VPNs may actually compromise the security of information you consider private, as is pointed out in this article appearing in the San Francisco Chronicle.
Look for VPNs that are reputable for not maintaining user logs and that are outspoken on the issue of privacy. One way to do this is to look for VPNs that publish the results of their independent security audits meant to support their claims of privacy and security.
The following are some tips to help you determine if the results of an independent privacy audit are reliable.
You should:
Look for websites that list the names of their auditors and the auditors' credentials and/or experience
Look for reputable auditing companies such as PricewaterhouseCoopers or Cure 53
You should also be aware of the difference between a simple privacy audit and a comprehensive security audit.
A privacy audit simply looks at the logging practices of the VPN, whether it logs and stores user browsing history or not. A comprehensive security audit seeks to find out if a VPN actually takes its security practices seriously.
Why Does It Matter?
Internet service providers are not necessarily required by law to seek permission before they share user data on browser history.
The main consumer of user data would be marketing and advertising firms looking for information on internet users' finances, health, app usage history, and browsing habits.
Internet providers make the case that they should be able to collect such data because major search engines and social media sites also can do this. This doesn't mean that they are collecting your data specifically. This data is reported at the population scale rather than the individual scale.
In essence, the point of such practices is to provide companies with more details concerning their target audiences. Still, many are unsettled at the prospect of their internet data being utilized in such a fashion.
It can be an exercise in faith, believing that the same provider looking to sell your data to advertising and marketing firms is responsible enough to protect you from the hackers who are capable of real harm.
Fortunately, independent privacy and security audits are starting to gain popularity. Make sure you do your research before committing to a VPN provider.
4. See How VPNs Work By Finding One That Is Free
Before committing to a paid subscription for a VPN, you may consider learning how a VPN can suit your needs by trying out a VPN that is either free or offered at a low cost. Most VPN services offer some kind of a 30-day free trial for you to learn more about what you are in for if you purchase their services.
Take, for example, the 30-day trial offered by ExpressVPN. This is not the only provider that offers some kind of a special deal or free trial for new customers.
I would recommend that those new to VPNs take advantage of such opportunities. If you are unfamiliar with the jargon, you may inadvertently purchase a product that does not suit your specific needs very well.
VPNs are also often priced in tiers that can help you avoid the mistake of overpaying for a service.
As an example, TorGuard offers a tier of subscription plans, including:
Anonymous VPN
Anonymous Proxy
Business VPN
You also have the opportunity to purchase either monthly, quarterly, semi-annual, or annual subscription plans. This provides you with plenty of opportunities to try it out before you commit to an annual subscription.
You can even find VPNs that do not have subscription fees. However, you need to do your research before using free VPNs.
You may be able to get a truer sense of what a VPN can actually do for you by trying a free trial or purchasing a monthly subscription.
Still, there are some benefits to be had from subscribing to a free VPN.  In the next section, you will find recommendations on how to use free VPNs.
Do Your Research On Free VPN Services
There are VPN services available that happen to be free, largely because they are supported by advertisements. You need to be careful with free VPNs.
Make sure you do your research before relying on a free VPN. There's an old adage: "You get what you pay for."  This is often the case when with VPNs.
The author of this article, appearing in the San Francisco Chronicle, seems to share the same sentiment.
When you are researching VPNs, you should be able to see:
Information regarding who's behind the company
An introduction to the management team or an "About Us" section
Whether the VPN tracks user browsing information or not
What the VPN uses information for
User Security and Privacy
The San Francisco Chronicle encourages those looking for VPNs to research this information and to keep in mind that most reputable VPNs come with at least some monthly fee.
ProtonVPN is one of the more popular free VPN services available. The VPN also comes with paid plans that give you more options if your needs extend beyond what the base level program can offer you.
The only downside of the program is the lack of servers available to users, to begin with. Also, full access to servers and features is only available to those at the highest subscription level. However, that is expected with a VPN that is available for free or available at a very low cost.
When you are looking for a good VPN that is free or available at a below-average cost, you are really looking for something that doesn't compromise your privacy and performs just well enough to service your most basic needs.
5. A Router-Based VPN Makes It Easy to Protect All Your Devices at Once
Security concerns abound with the private Wi-Fi systems in your home in much the same way that they do with the public Wi-Fi systems found at your neighborhood coffee shop.
Password-protected Wi-Fi access provides us with the illusion that we have all our private information under lock and key. However, the New York Times reports that routers can sometimes come infected with malware systems that are capable of manipulating your web traffic.
Such malware has even been known to allow attackers to upload a deceptive banking site onto your browser that looks like the one you typically use. They can then steal your credentials if they gain access to them.
There are multiple ways to prevent this from occurring.
For one thing, it is always recommended that you ensure that your Wi-Fi system is always running the latest version of its firmware to protect you from emerging security threats.
Another recommendation is that you purchase a new router for your home every few years. It may seem excessive to replace a router that works fine, but you should strongly consider doing so whenever the manufacturer stops sending out firmware updates for your router.
 
You certainly want to stay ahead of the curve when it comes to protecting your vital information. The New York Times suggests that the average lifespan of the router found in your home is 3-5 years for this reason.
If you are ready for a new router, why not go with a VPN router? The Seattle Times notes that VPN routers can be convenient for those looking to protect all their devices with internet access in one fell swoop. VPN routers are most convenient for those who do a lot of work from home on multiple devices. It can be hard to keep tabs on security if you are operating with a variety of devices.
They are also advantageous for families. The more devices you bring onto your Wi-Fi system, the greater the opportunity for your information to become compromised.
Examples of Popular VPN Routers
Syfer Work From Home Unlimited Smart VPN Router
TP-Link AC1750 Smart WiFi Router
6. Get A Reliable VPN For Streaming Movies, Even Internationally
One of the most sought-after features from VPNs is the ability to reliably stream movies and TV shows- even from abroad.
One of the distinct advantages of a VPN is the ability to access a server in a foreign country in order to watch a movie or show through a website or app restricted to users within a restricted area.
To be able to stream a movie or show, you need to seek out a VPN that performs well enough to stream without the added frustration of constant buffering. According to the University Herald, VPNs that aren't built for speed may run into issues with online video streaming. Stuttering and buffering could easily become issues.
Another important consideration you must make before purchasing a VPN for the purpose of streaming movies is this:
Some video streaming services may have technology in place that can recognize some VPNs and prevent them from accessing content
Wired magazine recommends ExpressVPN for streaming service. The magazine proclaims ExpressVPN as the most reliable VPN for streaming services, with one of the fastest connections. The VPN has also been independently audited and has been confirmed by Wired as a provider that does not keep customer logs. No customer log means better privacy for you.
7. Get A User-Friendly VPN For Beginners
The world of VPNs can be complex to navigate without falling prey to scammers. If this is your first time looking for a VPN, it is recommended that you seek out one that has a reputation for being user-friendly.
According to a post on the Cornell University site, these days, VPN providers direct customers through a one-click process to set up the program in a matter of seconds.
Wired magazine recommends ExpressVPN as one of the best VPNs for first-time users. This is because it's relatively inexpensive and features many tools to simply connect to the company's servers.
The post on the Cornell website shares this sentiment about ExpressVPN, noting that the VPN is friendly to new users thanks to its wealth of tutorials.
8. Check Your VPN Speed
If you are taking advantage of a free trial before committing to a specific VPN, then you will have an opportunity to test the speed of that VPN yourself using an online speed test website.
Speedtest.net is a site where you can test the speed of your provider. Internet speed will be displayed in megabits per second (Mbps).The Speedtest app is available for iOS, Android, Macs, and Windows for free. The app will run a downstream test, followed by an upstream test.
If you are unfamiliar with the difference between upstream and downstream speeds of the internet, you can find helpful definitions here.
The downstream speed is the speed at which you can download files and web pages from the internet, while the upstream speed refers to the speed of the connection from the customer to provider.
The upstream end includes activities such as sending emails. The upstream speed is lower than the downstream speed.
How To Check The Speed Of Your Connection
Here's how to test the speed of connection over a VPN:
Start out by measuring the speed of your internet connection before it is connected to a VPN

This will provide you with a measurement of the internet connection's overall average speed

Make sure that you are not running anything in the background that would take up bandwidth

Run the test a total of 4 times and record the best downstream and upstream speeds

Then perform the same test while connected to a VPN, making sure that you are connected to a server that is relatively close to you

If you're looking to the utilize international capabilities of the VPN, feel free to connect to a server overseas
After performing the Speedtest on multiple VPNs, you should be able to find one that is at least relatively close to the internet connection that you get from your provider while you are not on the VPN.
Speed-testing technology, such as Speedtest.net, certainly comes in handy when you are trying out a few different VPN providers that have free trials.
9. Ask Your Employer If They Have A VPN
Working from home could become more commonplace, even after the COVID-19 outbreak has settled down, and we return to at least relative normalcy.
It is in your employer's best interest that you are performing job functions from a server that is secure.
Ask your employer if they have a VPN if you need to perform work from home. This writer for the Boston Globe strongly recommends not using public WiFi to perform work functions. This is because data thieves compromise public hotspots and use them to steal data.
If you are a business owner yourself, it is strongly recommended that you look into getting a VPN router for your company if you haven't done so already. If you work for a company that does not have a VPN set-up, you can also help persuade your employer to set a VPN up.
There are several reasons why you should get a VPN for your business, according to the business school at the University Of Alabama-Birmingham:
It will help you avoid major data breaches and cyberattacks
It works well for companies that require quite a bit of international travel
It shows your customers that you are serious about protecting the information they may submit to you
Popular examples of VPN routers for businesses include:
SonicWall
Linksys Business Dual WAN Gigabit VPN Router
Cisco RV345 VPN Router
10. Advance Your Knowledge With Additional Resources
If you are not a tech junkie, then the jargon displayed on VPN provider sites may not mean very much to you. This makes it all the easier to get burned by buying a misleading or inferior product.
Fortunately, there is a great wealth of resources available that share the ins-and-outs of VPNs from an unbiased point-of-view.
Most VPNs come with tutorials that describe how to install and use the product.
Handbooks/Guides
Handbooks are an excellent resource for learning how VPNs work from a source that is neutral. Understanding the basics will help you to ask the right questions before you make a purchase.
Cyber Smart: Five Habits to Protect Your Family, Money, and Identity from Cyber Criminals by Bart R. McDonough
This 304-page guide includes guidelines on how to ward off security threats and protect your devices from hackers.
The book includes sections on how to protect yourself from identity theft and money loss, among other common threats.
OpenVPN: Building and Integrating Virtual Private Networks: Learn how to build secure VPNs using this powerful Open Source application by Markus Feilner
This book is tailor-made for those operating on Linux systems. You can obtain a more advanced knowledge of how VPNs work by learning how an OpenVPN is built from the ground up.
How To Check If Your VPN Is Leaking
Once you have set up your VPN, you will want to make sure it is actually establishing a secure connection. There are ways to make sure that your VPN is not "leaking."
You can learn how to do this by watching this helpful video.
You will start out by visiting a site that will identify your IP Address :
Make sure that the ISP provider is your VPN service and not your internet provider
Also visit a site that tells you whether or not you are using TOR, proxy or anonymizer

If the site shows the answer "no" to all of these, then you will know that your VPN is working
This is a great resource to use if you are trying out a free VPN, which might not be reliable.