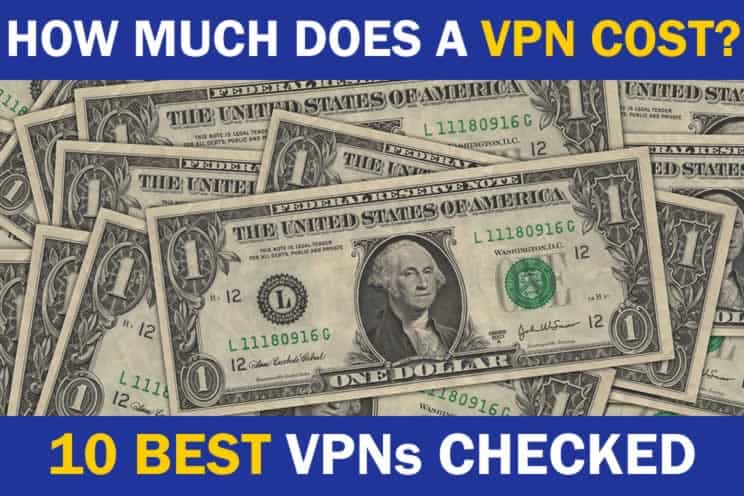 A VPN ensures a secure connection is created to other networks over the internet. VPNs are utilized to protect your browsing activity from intruders on public Wi-Fi, gain access to region-restricted websites, and many others. In today's world, VPNs are famous for reasons different from their original intent; they were created to securely connect business networks over the internet or grant you access to a business network from your apartment.
How much does a VPN cost? A secure and high-quality VPN service costs around $5-$12 monthly if you make monthly payments, or they can cost as low as $30-$50 yearly if you opt to pay for some years ahead.
Additionally, some VPN services offer "lifetime deals." It is not strange to find offers on deal sites that charge as low as $50 for a lifetime worth of VPN service. Although these lifetime offers may seem appealing, you should tread carefully in situations like this because lifetime deals take away the incentives of the service provider to keep giving great products because they already have their payment.
What Is a VPN?
VPN stands for Virtual Private Network; it connects your smartphone, tablet, or PC to another system (known as a server) anywhere on cyberspace, and you are allowed to browse the internet with the internet connection of that computer.
So, if that computer is located in a different country, it would seem like you are browsing from there, and you can gain access to things that are ordinarily accessible to the citizens of that country.
Advantages of Having a VPN
VPN offers several benefits to internet users. The following are eight significant benefits of a VPN:
Heightened Security: Whenever a network connection is made via a VPN, the data is kept encrypted and secure. This makes sure your browsing information is safeguarded from the claws of internet hackers.
Remote Control: For companies and firms, the most beneficial feature of a VPN is that company data is accessible remotely from the homes, or anywhere employees decide to work from. This feature allows a VPN to increase productivity within the workplace.
Anonymity Online: Via a VPN, you have the luxury of browsing the internet in utter anonymity. In contrast to web proxies or hiding IP software, a VPN service gives you access to both websites and web applications without being discerned.
Bypass Filters & Unlock Websites: VPNs give you access to blocked sites and are great for bypassing internet filters; this is why several countries with internet censorship use VPN services more in recent times.
Different IP Address: VPN can give you the IP address of a different country from your original nation of residence, granting you access to things only citizens of that country are allowed.
Reduced Cost: When a VPN network is created, the cost of maintenance is minimal. Additionally, if you subscribe to a service provider, the surveillance and network setup is no longer an issue.
File-Sharing: A VPN service can be utilized if you have a team that requires data sharing for a long time.
Improved Performance: The implementation of a VPN solution increases the efficiency and bandwidth of the network.
Disadvantages of Having a VPN
As efficient and effective as a VPN is, it does come with a few surmountable challenges.
Country Restriction: Citizens of certain countries are restricted from utilizing any VPN service. Some countries that consider private networks as illegal go as far as blocking several VPN services. The first VPN challenge that you need to contend with if your country happens to be a nation that considers private connections to be an illegal act, then you don't need to bother using a VPN service. Using a VPN service in certain countries can attract huge fines or jail terms.
Performance Issues: Since the connection of your network to a private server is how a private connection is achieved, it may cause performance issues. It may take a more extended period for some virtual networks to contact the private servers, causing a delay in loading the website you want to access; this is a common challenge that you will encounter when you utilize a free VPN service. Additionally, the connection speed may not be as fast as a regular connection.
Access to Your Data: A few VPN services will grant you access to their private servers in exchange for your personal information. Their intentions with your data will not be stated initially, but there are cases where VPN firms monitor their users' data for personal gain. They will conceal your IP address and bypass your internet restrictions, but they then become the ones to track you. Beware of VPN services that offer free or low-priced private connection, because they may access your activity.
Reduced Internet Speed: When a VPN connection is added, a layer of privacy is included via a VPN server. Instead of having direct access to a website, you visit it through your VPN provider. Even though it conceals your IP address and encrypts data, your data has to travel with extra complexities. If you do not utilize an authoritative VPN provider, your internet speed may reduce; this can be frustrating at times when you require fast internet for downloading, video chatting, streaming, etc. However, this does not occur all the time as VPN services like the ones discussed in this article have impeccable internet speed.
Cannot Bypass All Restrictions: One of the most common reasons individuals utilize VPN is to block precise contents or websites, i.e., bypass restrictions. Most content or websites may be easy to unblock, but a few ones may be hard to access. For example, Netflix can be accessed from any location, but the firm grants access to certain TV shows and movies only to certain countries. Netflix has signed several agreements with producers; they cannot show some content in certain areas. Netflix is very efficient in enforcing this law, which makes it difficult for several VPN providers to bypass.
Complicated For Business Users: Individual users may find VPN relatively easy to set up since they may only use it to download software or apps. However, business users do not have that luxury of convenience as a VPN is quite challenging to set up, especially when a private network needs to be set up on a business premise. Setting up a VPN for business will make your overall network connection more complex, and it will affect devices utilized for your business. Although several VPN service providers may be able to make it easier for you, you may need a dedicated network management team to manage your firm's private connection network.
How to Get a VPN
You can create a VPN server, use one from your workplace, or even host one from your apartment, but what most people look out for is protection while they torrent or assist them with watching inaccessible media online.
The simplest way to get a VPN is to visit one of the VPN sites discussed in this article, register, and download the VPN service provider for your iPhone, iPad, Android, Windows PC, or Mac. It's that simple.
10 Best Per Month VPN Services
What are the ten best per month VPN services? The ten best per month VPN services are as follows:
Surfshark
ExpressVPN
NordVPN
CyberGhost
Private Internet Access
HotSpot Shield
StrongVPN
TunnelBear
VyprVPN
WindScribe
Surfshark has a simple branding, but it's all business when it has to do with securing your online identity. Surfshark features all the basics like TCP, OpenVPN, AES-E256 encryption, IKEv2 security protocols, and a kill switch put in place to restrict leakage of your details in the event of a failed connection. Additionally, this VPN service boasts an extra security blanket through a double VPN hop and a private DNS. Not forgetting a logging policy that records only your billing information and email address, and it is swift.
If you are the type of person that dislikes ambiguous menus and overcrowded options, Surfshark would be an excellent fit for you. The interface is very straightforward, with the absence of any complications. One of the most prominent features of this VPN provider is that your subscription covers unlimited services and devices. If you intend to utilize your VPN subscription on your tablet, desktop, smartphone, laptop, and Amazon Fire TV stick for foreign television, one account is sufficient for all of them at the same time.
Surfshark has a 30-day guarantee during which you can get your money back if you are unsatisfied with their service; this gives you ample time to test their service before you settle in the long term.
Monthly Subscription Fee: Click to find out latest deals
This VPN provider grants you access to over 3,000 servers in 160 destinations across 94 nations, accompanied by arguably the most extensive platform support that can be seen anywhere. ExpressVPN features; DNS content-unblocking for smart TVs and streaming media devices, and custom firmware for specific routers.
All these features may seem like a lot to handle for individuals who are new to VPN, but this VPN provider walks you through it all with a fantastic support website packed with detailed tutorials and guides to get you started. If you encounter any issues, ExpressVPN has a 24/7 live chat support ready to cater to your inquiries and problems under a few minutes.
Express VPN also features; P2P support, Industrial strength encryption, bitcoin payments, DNS leak protection, clear no-logging policy, stable and reliable performance, and a kill switch for when the connection is interrupted.
 Monthly Subscription Fee: Click to find out latest deals
This VPN provider currently matches or topples its competitors in virtually all areas. NordVPN offers more than 5,500 servers in about 60 countries; reliable DNS leak protection, 6-device support, proxy extensions for Firefox and Chrome browsers, bitcoin, credit cards, and PayPal payment options, 2048-bit encryption, and kill switches that are specific to applications.
NordVPN's user experience comes with minor inconveniences like listing destination cities in no particular order. However, these issues pale in comparison to the fantastic features of NordVPN.
There was a report in 2018 that this VPN provider got hacked. Nord, however, has taken measures to step up in the security department, which has reinstated them as one of the best VPN service providers in the world.
Monthly Subscription Fee: Click to find out latest deals
4. CyberGhost
This VPN service provider has all the basics when it comes to VPN service, with over 5,000 servers across 90 unassuming nations, apps for iOS, Android, Mac, and Windows, swift live chat support, and torrents.
A significant highlight of CyberGhost VPN is the task-based app interface. CyberGhost automatically chooses the server to use for unblocking any website you desire when you select a geo-blocked service. CyberGhost also has a ton of other features like blocking trackers, malicious websites, and ads. Automated HTTP redirection makes sure the most secure connection is made. You can save cash due to its optional data compression.
All in all, CyberGhost gives you several unusual and useful features for a reasonable price.
Monthly Subscription Fee: Click to find out latest deals
Private internet access covers over 50 areas across 32 nations. This VPN provider features; P2P supported by all servers, browser extensions for Firefox, opera, and chrome, apps for mac, windows, Linux, iOS, and android, and thorough tutorials for routers and other devices, which means this VPN service functions virtually anywhere. 
The applications may be a challenge to use for some users, but they have reliable security and several top-notch features.
The Android app lacks a favorites system making it longer to discover frequently utilized servers. Regardless of these minor setbacks, it is not difficult to use, has a kill switch in the case of a disconnection, vibrates your mobile device whenever a connection is established and protects you automatically whenever an unsecured Wi-Fi is accessed.
This VPN provider's visually appealing browser extensions also offer more than anticipated and have several privacy-related features alongside the VPN (cookie clearing, microphone protection, flash blocking, camera protection, and many others)
Monthly Subscription Fee: Click to find out latest deals
HotspotShield grants you access to over 3,000 servers in over 70 nations, 24/7 customer support, supports connectivity of up to 5 devices, and the absence of ads. The HotspotShield VPN performs fantastically in several areas, with its proprietary catapult hydra protocol that enhances super-fast download, even to faraway places. What's more, is that the speed does not fluctuate.
However, this VPN provider only makes use of its Catapult Hydra protocol. Additionally, standards like OpenVPN are not supported by HotspotShield, making it impossible for it to be set up on your games console, chrome book, router, and wherever you may want to make use of this service; this means that it only works on devices where its Mac, Windows, iOS, and Android applications can be run.
Additionally, HotspotShield does not support Bitcoin, cannot unblock BBC iPlayer, and the app does not have enough configuration options. However, not everyone would be bothered by these oversights, especially when you desire impeccable speed at a minimal cost. Users have access to a seven-day free trial to get conversant with the service before fully committing.
Monthly Subscription Fee: Click to find out latest deals
With such a name, it is expected that StrongVPN is a privacy and security heavyweight. It features; no data sharing turn off-able cookies, and zero-logging minimal personal information.
Apart from utter brawn, this VPN provider takes a semblance of a moderate approach, gravitating towards strength rather than style. For everything that StrongVPN does, it does with finesse. For example, you have to laud the choice to add the capacity to connect to 12 devices simultaneously. This feature means that your subscription cost per month covers your; tablet, streaming device, desktop, mobile, laptop, and a host of others.  
StrongVPN may pale in comparison to its competition in the aspect of numbers, the 46 towns, 900 servers, and 26 nations may leave a lot to be desired. However, this VPN service performs fantastically, with one of the best connection speeds amongst VPN services.
Monthly Subscription Fee: Click to find out latest deals
TunnelBear is a VPN provider that places focuses on bear-related humor and easy usage. Their emphasis on simplicity connotes that demanding users may not find as many features as they desire from this VPN provider. TunnelBear covers just 20 areas; the protocol cannot be changed and has a few substandard settings.
Additionally, if you want to set up the service on game consoles, a router, or whatever else, the weak support website does little or nothing to assist you.
However, if you are okay with simple stuff, then TunnelBear would be great for you. This VPN service has applications for Android, iOS, Mac, and Windows; it also has Firefox, Opera, and Chrome extensions. The connection is quick and easy, can download torrents, and gains access to Netflix.
TunnelBear performs substantially in the privacy department, with its employment of specialists to oversee a public security audit on its servers, code, and system; this is a move that other VPN service providers cannot boast of.
Monthly Subscription Fee: Click to find out latest deals
This VPN service provider is equipped with zero-knowledge DNS service. Vypr can grant you access to VPN restricting nations like Iran and China via its Chameleon protocol. This VPN provider is equipped with a platform that supports Mac, Windows, iOS, and Android applications, Android TV, Blackphone, routers, Anonabox, and a host of others.
Additionally, Vypr has very high download speed, with exceptions in specific locations like  Macao, Taiwan, and the Maldives. Even the exempted countries have an internet speed of around 8-10mb, which is suitable for several tasks.
Vypr has augmented its logging situation in recent times. They have an independent audit to clarify that there is an absence of any logging. One prominent feature of this VPN service provider is that it can unblock BBC_iPlayer and Netflix.
Monthly Subscription Fee: $12.95
Windscribe is an incredible VPN service provider that offers more than anyone may anticipate in many aspects. You get clients for Linux, iOS, Android, Mac, and Windows, with extensions supporting Firefox, chrome, and Opera, and guides to set up the service on Kodi, routers and a host of others. 
Windscribe covers areas in more than 100 cities spread across over 60 nations. However, this VPN provider is not without its shortcomings, you may experience slow connection times, it does perform fantastically, but servers from long distances could barely crawl. There are also some hitches on unblocking of sites, it grants you access to Netflix, but cannot unlock BBC iPlayer.
This VPN provider would most likely leave your inquiries and questions unanswered as there is no 24/7 support. Although the brand states that they utilize their inside staff for assistance rather than trusting any small earning worker who just repeats lines from a script, so if you don't mind waiting, then you are home free.
Windscribe may be lacking in some areas, but it does come with several useful features. If you need a new VPN, you can use their free plan to get a taste of what they have to offer.
Monthly Subscription Fee: $9
Final Tips: VPN Best Practices
Once you have chosen your preferred VPN, remember to follow these best practices to ensure you have a great experience with your VPN and its provider.
Stay Incognito
The incognito feature of a browser is meant to do more than just concealing your internet activities from intruders. Remaining incognito will aid you in eradicating any chance of your browser, giving out your personal user information.
Websites operate with things like cookies, which may and can implicate you. Remaining incognito or clearing your cookies and browsing history after you use your system or device is a great way to maintain privacy.
Constantly Use a Firewall 
Ensure to always have the firewall or anti-virus of your system or device operational while browsing on the net, even when you have a VPN service. Firewalls restrict any illegal approaching connections and keep hackers at bay. Advanced firewalls can be utilized, and they can be customized to limit precise ports.
Take Care of Cookies
Cookies may seem irrelevant, but they can be converted into surveillance scripts that keep records of your internet activities and network information. This sort of data can cause damage to you in the hands of hackers or even sold to advertisers.
It is advisable to refrain from using the cookies and stop storing or caching on your system. 
Adopt L2TP/IPsec Protocols
Protocols like SSTP, L2TP/IPsec, OpenVPN, and PPTP are used by several VPN services to create a connection. The L2TO/IPsec has the most security amongst the lot, while PPTP is said to be the weakest.
If L2TP/IPsec is part of what your VPN provider offers, you should opt for it as opposed to others.
Pay For VPN Service with Bitcoins
After taking all the necessary precautions to ensure your security and anonymity, your location can be discovered via your payment details. When a regular currency is used for payment, the VPN provider has access to your payment information and may have to hand it over to law enforcement authorities under duress. It is safer to make payments with untraceable currencies such as Bitcoin to avoid risks like that.
Keep Your Geolocation Tools Off
This particular practice is tailored to individuals who use their mobile devices (that are equipped with tracking devices such as GPS) to access the internet. You can have your location revealed or compromised even when the IP address of your VPN provider is being used. So always remember to keep them off to stay invisible.
Use Full Tunnel
There are two methods of VPN operations: split and full tunnel. A split tunnel is used for the reduction of the bandwidth amount consumed. With this tunnel, all traffic meant for your inner framework will go over that decipherable network. In contrast, other types of traffic will go over the local network straight to the internet.
The issue with this scenario is that a hacker may be able to take advantage of your system through the outgoing traffic over the local network and utilize that system as a springboard to your corporate network. This intrusion can be achieved via something like NBNS/LLMNR spoofing.
Also, the employees of a firm may have a false sense of security with the configuration of a split tunnel, believing that they are safeguarded by the encrypted VPN tunnel when they use the internet. This false security may motivate them to carry out sensitive transactions such as bank transactions on an airport's free Wi-Fi or at Starbucks—things they usually avoid as a result of how risky it can be when you have no VPN protection.
Conclusion
This article has been able to provide you with information on the cost of VPNs, give you details of the ten best per month VPN services, and everything you need to know about VPNs. Indeed, with this new information, you will be able to acquire the best VPN service and keep your system data adequately protected.