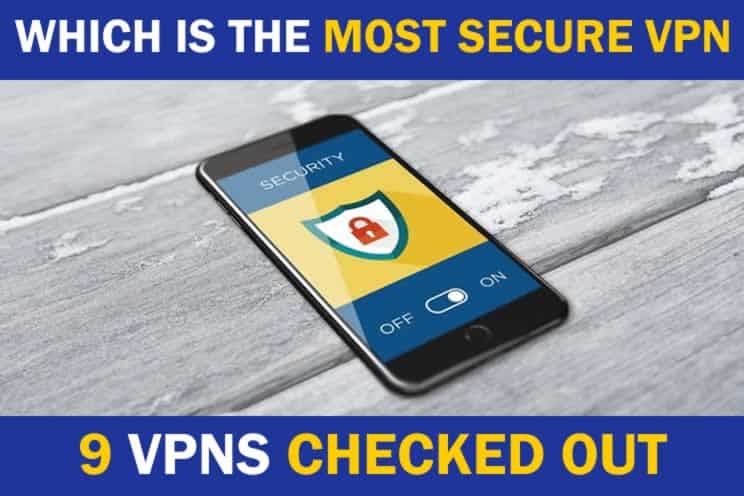 A VPN needs to provide you the utmost privacy and security. However, depending on the quality of the VPN architecture, some VPNs are more secure than others. Therefore, it is essential to do your research before deciding on a VPN.
So, what is the most secure VPN? A secure VPN should provide strong encryption with IP leak protection, and it should include a kill switch to protect your data in case the connection breaks. The most secure VPNs are:
Express VPN
Nord VPN
Private VPN
Surf Shark
PrivateInternetAccess
CyberGhost
IPVanish
VyprVPN
VPN.ac
The above VPNs offer not only the best security features but also the quality infrastructure that ensures a streamlined functionality. Read on to find out more about the most secure VPNs and what makes a secure VPN so that you understand what to look for in any VPN.
It does not matter if it's a popular brand or not; a good VPN provider will support the security services it claims to offer, and the excellent reviews of their customers would reflect it. The following are the most secure VPNs and explained the relevant features they hold so you can pick the one that suits you best.
1. Express VPN
Express VPN is one of the most respected VPN brands worldwide. Available on most PC and mobile operating systems, this VPN also works on many other updated platforms. It features all-rounded customer-based features thanks to its always up-to-date TrustedServer Technology.
With its OpenVPN support and 254-bit encryption, you can rest easy knowing that you are well protected. Moreover, you are provided with a firewall kill switch that seals its robust security. So, you can be certain that absolutely no leaks will happen when the VPN disconnects.
ExpressVPN keeps no activity or connection logs. After the Turkey server was seized, they confirmed their "no logs policy," which assured the users of their privacy. Their servers do not operate on hard drives that store information until erased. They use RAM (Random Access Memory), which is another add on to privacy features.
ExpressVPN security features include:
AES 256 encryption
authentication from the HMAC SHA-2 family
RSA handshake with the 4096 key
Perfect Forward Secrecy (PFS)
DNS and WebRTC leak protection
Do not worry about its ease of use since you can use the numerous user-operation guides available on the internet. In case you hit a snag, you can ask for their support at any time since they are available 24/7. Furthermore, you can test the waters with the 30-day trial, which has a money-back guarantee.
2. Nord VPN
Operating within the same league as ExpressVPN, Nord VPN features an amazing performance with a focus on privacy while not forgetting all the necessary fun add-ons a VPN can provide.
Nord VPN is based in Panama, away from the Five Eyes, which can trouble VPN providers with data retention regulations. It, therefore, keeps no logs, hence ensuring robust security.
Nord VPN security features include:
AES-256 encryption
RSA-2048 handshake
Data authentication HMAC key from SHA2-256
Perfect Forward Secrecy
SOCKS5 proxy
In Android and Windows, Nord VPN has OpenVPN on default. However, in iOS, it uses IKEv2 with the HMAC SHA2-384, which still makes it military-grade secure.
As if that's not enough, Nord VPN chose to add a cybersecurity feature that offers malware protection, helping you steer away from suspicious sites and keeping away intrusive ads. To keep you protected at all times, Nord VPN includes a DNS leak protection and a kill switch.
Nord VPN is an all-round VPN with great performance. If you want to try it out, do not resist since it offers a 30-day money-back guarantee. The definitive guides will help you set it up, and anytime you have a problem, the knowledgeable customer support can help you through a live chat.
3. Private VPN
Private VPN is one of the best secure VPNs available. It is growing fast and holds numerous great reviews from their customers.
Private VPN features:
2048-bit encryption
AES 256 supporting OpenVPN, IPSec, L2TP, IKEv2, and PPTP protocols
SHA256 for HMAC authentication
RSA handshake with the 2048 key
Perfect Forward Secrecy is also included with the Diffie Hellman Exchange key (DHE)
Even if you are suddenly disconnected from your VPN, you can stay safe, thanks to the IPv6 leak protection. That plus the kill switch feature ensures a robust security measure for all your privacy-conscious devices.
This is a security essentials-only type of VPN. So, if you need most VPN services without a large number of servers and other luxury features, the Private VPN may be a great fit for you.
4. Surf Shark
Headquartered in the British Virgin Islands, Surfshark lies in a privacy-friendly region where no data retention laws have to be enforced. Moreover, they are located away from the Five Eyes, which is a relief since they will not have to be pressured for any investigatory information. Therefore, they can keep their no-logs policy intact.
Surfshark features the following:
AES256 encryption
A choice between two secure protocols: IKEv2 and OpenVPN
A multi-hop feature that takes IP masking to a whole new level
RSA 2048 handshake
Perfect Forward Secrecy
HMAC SHA256 and SHA512 options
It does not end there. Surfshark includes a built-in kill switch that automatically disconnects the internet whenever the VPN disconnects. So, there will not be any information leaks. Speaking of leaks, Surfshark also includes IP, DNS, and WebRTC leak protection.
Adding camouflage mode to the already airtight security features is one of the reasons Surfshark made it big in the market so quickly. With this mode, your ISP will not even know you're using a VPN. As if that's not enough, Surfshark also includes a clean web feature that helps block ads and trackers and also gets rid of the malware.
You can also spend more money to buy premium security features like Hacklock and Blind Search. Hacklock alerts you anytime your accounts are breached and hinders any accidental leaks that may happen from your end. The Blind Search feature helps you navigate the internet without your searches being affected by ads and logs so you can get organic keyword-relevant results.
Surfshark is a great fit for anyone who craves for top-security VPN features with luxury add-ons. You can even use it for collaboration purposes since it can connect to unlimited devices.
5. Private Internet Access
Private Internet Access or PIA is a US-based VPN, but it also includes a no-log policy since it is not under any serious data retention laws. This was even proved in court for the second time when the VPN provider was pressured to provide logs for a legal case.
Private Internet Access has the following security features:
OpenVPN, PPTP, IPSEC/L2TP, and SOCKS 5 proxies
AES256 encryption
HMAC SHA256 for authentication plus control panel
RSA 4096 for data channeling
Perfect Forward Secrecy
To ensure that you are protected at all times, PIA has a kill switch plus IP, DNS, and WebRTC, leak protection. Even better, it helps block malware, trackers, and ads using the MACE technology, so it is enough to help you evade almost all hacking attempts on the web.
Since they have a built-in DNS system, you can use their Handshake Naming System to increase your chances of browsing anonymously from anywhere on the planet. You can also use the encrypted Wi-Fi feature to authenticate your connections hence increasing your privacy capabilities.
PIA is fast and allows five simultaneous connections — a capability even demanding users would appreciate. Testing the reliability of PIA is also possible through their one-month money-back guarantee. It is one of the most budget-friendly VPNs you can find. It, however, does not have 24/7 customer support.
6. CyberGhost
CyberGhost is a VPN provider located in Romania, a privacy-friendly zone. So, it manages fine to keep its no-log policy unimpaired. Also, it boasts a user-friendly design that is perfect for beginning VPN users. 
CyberGhost offers these features:
AES256 encryption
OpenVPN, IKEv2, and WireGuard protocols
HMAC SHA256/SHA384 authentication
RSA 4096 data channeling
Perfect Forward Secrecy in the ECDH-4096 key exchange
With its no-log operations and kill switch, many people can depend on the security CyberGhost provides. This does not exclude demanding users since it has almost 6,000 servers in 90 countries around the world.
CyberGhost allows you to connect to up to seven devices, which is generous enough for many VPN users. It also features an adblocker to help you navigate some sites without investing in a separate adblocker. 
CyberGhost is a wonderful all-round VPN that can help you operate online privately and securely. And the best part is, it comes with a generous 45-day money-back guarantee to help you get the feel of its power. When ready, you can also choose to check out its premium features using the one-day free trial.
7. IPVanish
IPVanish is a US-based VPN, but even though this is not a privacy-friendly zone, it still operates under a no-log policy. You may have heard about them handing over logs to the feds years back, but that was a time when it was under different management. Since StackPath took over IPVanish, there have been no reported log claims to make users worry.
The security features of IPVanish include:
OpenVPN, IKEv2, and L2TP/IPsec protocols
SOCKS5 proxy
HMAC SHA256/SHA 512 and RSA 2048 for authentication
IP, DNS, and WebRTC leak protection
With the built-in kill switch that IPvanish offers, there is no way your internet will work without a VPN connection. Also, if you have been searching for secure cloud storage, IPVanish offers it within its paid plans. You can get 250GB of space through their SugarSync encrypted storage and backup.
IPVanish comes with perks like additional IP configuration and obfuscation settings. With the flexibility of allowing ten simultaneous connections and 24/7 customer support, this VPN is reliable to many demanding users. However, it features a premium price, too, with a seven-day money-back guarantee.
8.VyprVPN
Being one of the no-log VPN pioneers, VyprVPN is one of the oldest and most trusted VPNs around the world. It is headquartered in Switzerland, and its customers rely on their servers located in 70+ places around the globe.
You can choose to purchase basic VyprVPN features or go for the premium package, which offers a special bonus: Chameleon Technology. This feature prevents everyone from knowing whether you are using a VPN at all hence preventing VPN blocking and bandwidth throttling, among other benefits.
Other features of VyprVPN are:
AES 128 plus 256-bit encryption
PPTP, L2TP, IKEv2, OpenVPN, and Chameleon protocols
HMAC SHA256 authentication
SHA384 control channeling
RSA2048 encryption
IP and DNS leak protection
A kill switch
VyprVPN is reliable for most VPN users. Although its pricing is on the high-end side, it offers a better price if you choose it for the long term. You can try it out with their 30-day money-back guarantee trial.
9.VPN.ac
VPN.ac is not a popular VPN, but it's a Romania based security-focused VPN company that launched in 2012. With the experienced network professionals founding and managing this VPN, it has managed to update their infrastructure to bring an efficient security solution to their customers.
VPN.ac provides the following:
L2TP with AES256 and RSA-2048
OpenVPN with 128-bit BF-CBC, RSA 2048 and HMAC SHA-1
OpenVPN with 128-bit AES, RSA 2048 and HMAC SHA256/SHA 512
OpenVPN with 256-bit AES, RSA 4096 and HMAC SHA 512
OpenVPN AES 128, ECC secp256k1 and HMAC SHA512
With all the above encryption options and Perfect Forward Secrecy, you can enable any combination depending on your security needs. Given that VPN.ac is one of the few VPNs featuring the WireGuard protocol, you can say that it is always catching up to the latest top-notch technology.
VPN.ac does not log user activity, and since they use self-hosted DNS services, you can bet on your privacy with them. Even better, this VPN uses double-hop connections to take your privacy an extra mile.
VPN.ac does not disappoint and provides a built-in kill switch with an IPv4, IPv6, and DNS leak protection. And the best part is, the setup, connection, disconnection, and adjustment of these features is extremely easy with this user-friendly VPN.
Although VPN.ac is not a popular VPN that people fancy, it provides features that ensure high-grade privacy and security online. The above technical details are not just for looking pretty; this VPN works as well. It only lacks a broad customer base because of its limited server portfolio.
What Makes A Secure VPN?
The following are the main things that make up a secure VPN:
Strong Encryption and Secure VPN Protocols
For your connection to be secured through a VPN, a particular channel is used. This channel will determine the security measures to be taken and is known as a VPN protocol. Within this VPN protocol are encryption and authentication algorithms that make up its security features.
Standard VPN protocols for security include:
PPTP
The Point to Point Tunneling Protocol (PPTP) is one of the oldest internet security protocols. However, it does not work with robust encryption algorithms and is therefore not ideal for maximum security. It is, however, suitable for fast speeds, unblocking sites using fake IP addresses, and general, lightweight VPN operations.
L2TP/IPsec
The Layer 2 Tunneling Protocol is one of the widely used VPNs for channeling your connection through a secure channel. However, without the Internet Protocol Security (IPsec), it does little to protect your data from snoopers.
Because of its double encryption, the L2TP/IPsec is loved by many VPN users. Although it surpasses the PPTP in terms of security, it is not as secure as the protocols below. Therefore, we recommend using VPNs with this protocol when you need low-level security with convenience and compatibility.
SSTP
The Secure Sockets Tunneling Protocol is also reputed for its security thanks to its up to date Transport Layer Security (TLS), which envelopes your data in transit. SSTP incorporates high-value AES keys and features average speeds in all internet operations.
IKEV2/IPsec
The Internet Key Exchange Version 2 is a higher security protocol than L2TP. It involves the exchange of authentication keys between the VPN and the user hence making connections extremely secure.
Although it includes secure encryption, IKEV2/IPsec is known to be faster than other protocols. You should not expect any vulnerabilities since there have been none so far. However, if you want foolproof security with the security giant of internet protocols, you would want to read further.
OpenVPN
If you can afford and access OpenVPN, by all means, go for it. This is the best security protocol that has been thoroughly tested so far. It uses two ways to authenticate your data: TCP and UDP.
The Transmission Control Protocol uses an authentication key that is communicated between you and your internet destination to ensure a secure relay of information. Think of it as a digital handshake. It is quite slow, but it keeps your internet operations secure, and you will always be sure that you're getting original formats of shared files.
The User Datagram Protocol, on the other hand, is speedier since it does not involve the lengthy process of a digital handshake. It directly sends data packets through strong encryption and may tolerate minimal data losses in some instances to deliver them faster.
OpenVPN is the security protocol to aim for in VPNs. However, if you don't mind average levels of security, IKEV2 is also a good option.
Many VPNs provide OpenVPN, yet we do not recommend some of them. OpenVPN protocol without high standard components is only as good as the other low-security types.  If the infrastructure is subpar, the VPN will not be as safe as you may think.
The top high-security OpenVPN components include:
Cipher AES 128-bit/ 256-bit: The Advanced Encryption Standard is the best encryption a VPN can implement today to avoid any brute force attacks.
Hash authentication: HMAC SHA 2 is preferred than SHA 1, especially if you need foolproof security.
RSA 2048-4096
Perfect Forward Secrecy: If the private key is compromised, you can be confident that your information would be safe with the next unique key.
WireGuard
This protocol is merely a new kid in the block, but even before its completion, it was already featured in some VPNs. Moreover, it is open-source and does not have any security vulnerabilities so far. Unlike OpenVPN, WireGuard is easy to set up. It is built with state-of-art cryptography, and the implementation is so smooth that its operations are fast and efficient.
Since it is currently still in the development stage, it features compatibility with Linux OS only. However, Linux users are already going nuts over it, so we all can't wait for its future — it seems bright.
No IP Leaks
IP leaks are common even with trusted VPN providers. However, the most secure VPNs are stepping up and providing IP, DNS, and WebRTC leak protection. All the VPNs we recommend rarely experience IP leaks.
Kill Switch
Your IP and other data can be seen and monitored when you are not using a VPN. However, even when you get a VPN, sometimes the connection can cut off, and your information will be open for your ISP and all the world to see. This, of course, would not happen if there were a kill switch.
A VPN kill switch is for disconnecting the internet whenever a VPN dropout is detected. This helps you maintain your privacy at all times.
There are two main types of VPN kill switches:
Reactive: This one disconnects the internet after your VPN dropouts, and even though it is scary fast, a few microseconds of your connection being unprotected can be dangerous. It is better to have a reactive kill switch than none.
Firewall: This type of kill switch turns off the internet connection the instant a VPN dropout happens. In other words, if the VPN connection is disconnected, there is no way you can access the internet. This one is better than the reactive type.
No Logs
Although some companies claim to keep no logs, they secretly do and even aid investigations. However, the most secure VPNs do not keep any logs that can be traced back to you in the case of an investigation.
So, what does a no-log policy mean? The truth is, a no-log policy or a zero-logs policy does not mean that the VPN provider doesn't keep any logs at all. That is not technically possible since they have to keep some information like connection logs (timestamps and bandwidth used) for service maintenance reasons. This, however, needs to be deleted as soon as possible.
But why do even trusted VPN companies claim to keep zero logs? Like every industry, marketing tactics change over time. When reviewers started telling their readers to avoid any VPN that logs data, VPN providers had to claim that they keep absolutely no logs to avoid being kicked out of the competition.
The no-logs policy merely means that they keep no information that may be traced back to you like IP addresses and your web activity. Those that lie about keeping logs keep such information and sell it to third parties.
So, what should you do when searching for the most secure VPN? You need to check out their privacy policy, which will talk about their no-log policy in detail. This will help you avoid VPN providers who can sell you to the feds the moment they come searching.
For instance, Express VPN collects: "
Apps and app versions successfully activated
Dates (not times) when connected to the VPN service
Choice of VPN server location
Total amount (in MB) of data transferred per day."
See? If you dig a little deeper into the privacy policy, a secure VPN will tell you how much of your data they log and why. If they are only vague in their logging promises, avoid that VPN.
Good Customer Support
If you buy a security option at a reasonably high price, you will expect quality customer support, right? Fortunately, the most secure VPNs will not keep you in the dark when you hit a snag. They know that your security is at risk and would, therefore, strive to provide the best customer service.
Check the VPN's website to see comments about their customer support. You can start with the FAQ section. If they seem knowledgeable and respond to questions helpfully, it is a VPN you can trust. If you wish to be entirely sure, ask them a question and see how they respond.
The most secure VPNs often have real-time communication to help you take the necessary troubleshooting steps. Even if they do not have such a feature, they will include a seamless way of communication with a reply in less than three days.
Conclusion
A VPN that features strong encryption, a kill switch, a no-log policy, and does not let IP leaks occur is a good one. However, if all those features work together to form a genuinely efficient VPN with top-security solutions, then that is, for sure, one of the most secure VPNs. Now that you know the features you need in a secure VPN, you can try them with the money-back guarantees to identify the best fit for you.